Town calm after protest by Narok matatu operators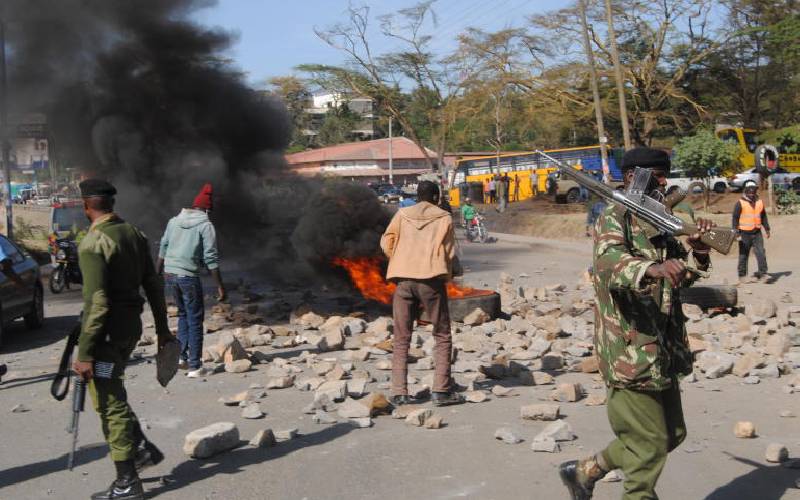 An uneasy calm returned to the town one day after chaotic incident where matatu operators demonstrated over the closure of their parking space.
On Saturday morning, drivers woke up to a rude shock when they found that the Hass Petrol Station where they recently relocated had been barricaded.
Antony Torome, an official with Narok Line Services Sacco, said they suspected that employees of the county government were responsible for the closure.
"We are shocked that we cannot access our stage which is at Hass Petrol Station. The station is filled with stones ferried by county tippers and some structures destroyed," said Mr Torome.
He added that the county administration had not served the sacco with a notice that they had breached the law.
The official said they lost millions of shillings after their vehicles failed to ferry passengers and speculated that a rival matatu sacco had conspired with county officials to frustrate their operations.
A spot-check by The Standard yesterday found that the stones that had barricaded the petrol station had been cleared. And although operations at the station were yet to resume, the Narok Line matatus continued with business.
The petrol station also hosts other public service vehicles whose operations were also affected by its closure. Irate matatu operators engaged police in running battles for the better part of the day with tear gas canisters lobbed to disperse them.
In a statement, Hass Petroleum Group Country Manager Mohamed Billow said the station been closed to pave way for investigations.
"We would like to confirm that our retail station in Narok was invaded by unknown individuals who proceeded to destroy our forecourt, equipment and branding elements consequently halting our business," said Mr Billow in a statement.
Ward rep Bernard Torome condemned the incident, saying, "That a government or individuals can do such a thing to investors is inhuman. I assure you that the drivers who ferried the stones using county tippers will be sacked."