Fears over Laikipia wetland as Tobiko vows action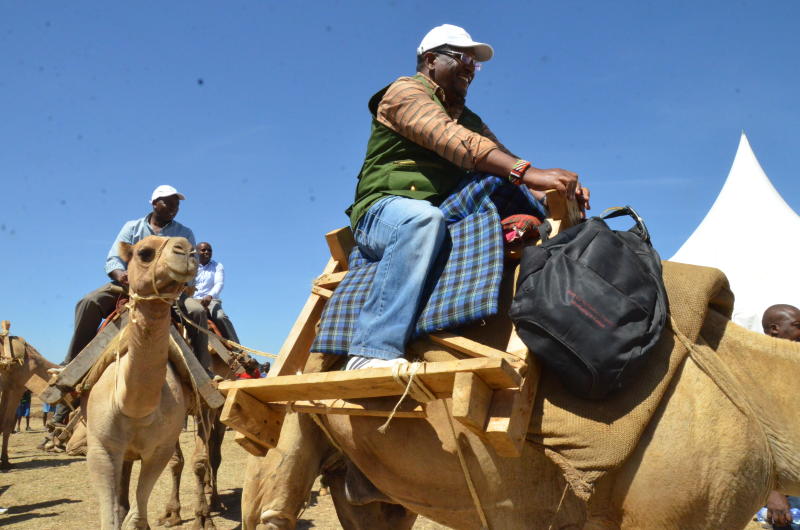 Environment Cabinet Secretary Keriako Tobiko has refuted claims that the government wants to take over the Ewaso Narok wetland in Rumuruti, Laikipia County.
Residents have raised concern that the State is planning to reclaim the 50-hectare wetland, that is home to 173 bird species and a source of livelihood to residents.
But speaking during the World Wetlands Day commemoration in Rumuruti yesterday, Tobiko said the land belonged to the locals.
"(The locals) are the ones who benefit from it (wetland), but they must remember that it is a resource to many other people who do not necessarily live near it," he said.
Having on January 31 declared an intention to protect the wetland, Tobiko said it does not mean that people will be evicted.
About 23 communities that live in Laikipia depend on the wetland and River Ewaso Nyiro, which sources its water from the wetland.
Richard Koech, a resident, said they depend on the wetland for a vegetable known locally as opere. It grows in the water channels.
"We eat this here and is only found along the river," says Koech.
But Koech acknowledged that the wetland is under serious threat. Born and raised in the area, he has witnessed the wetland shrink to its current size, mainly due to uncontrolled use.
Laikipia Governor Nderitu Muriithi promises that his administration would work together with all stakeholders to find a sustainable way to conserve the wetland for posterity.
"More than 60 people died during the last drought season owing to conflicts over water and pasture," said Mr Muriithi.
Conservationists say only an integrated plan will solve this problem. Calls have also been made to restore the rivers upstream that feed the swamp.
Patrick Muraguri, the chair of the Community Action for Nature Conservation (CANCO), said there was an urgent need to restore Marmanet, Satima and Dundori forests.
"People who grabbed land in Marmanet should be evicted first as the beginning of conservation," said Mr Muraguri.
He asked the government to offer alternative sources of income that will encourage those who are farming inside the wetland to move out.
He also wants numerous plans drawn to conserve the wetland to be implemented.