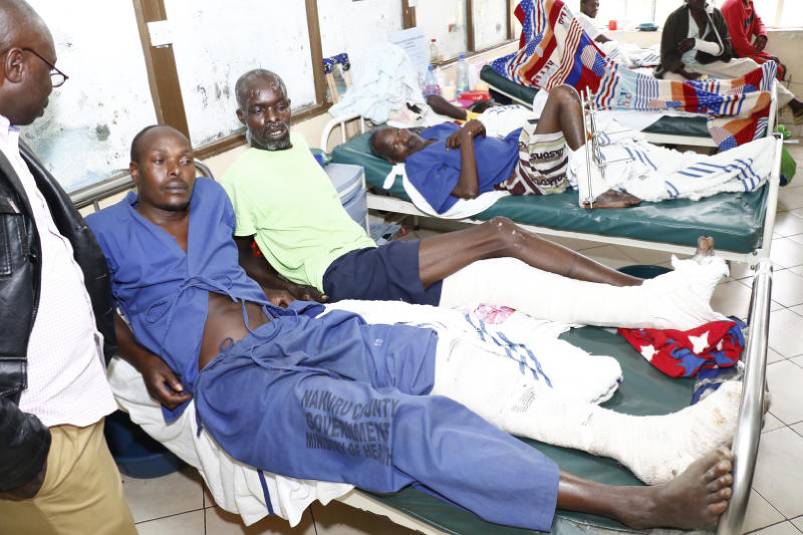 Patients have had to share beds as others sleep on the floor at the Rift Valley Provincial General Hospital, which is grappling with high number of referrals. Simon Kipkorir, from Solai in Subukia, said he slept on the floor as other patients shared beds. Mr Kipkorir had sustained head injuries during an assault and was referred to the facility from Bahati sub-county hospital. "The patient is not badly off; he has been attended to. But my worry was that he might get infections by sleeping on the floor where people vomit. The floor is generally not attractive to sleep on," his brother Alexander Rutto said.
SEE ALSO: Kinyanjui nominated for continental award
The facility has a high number of patients in its wards, with some requiring surgeries and others implants. Health executive Kariuki Gichuki said the congestion was a result of a high number of referrals. "It is worrying that the facility, by virtue of being level five, receives a high number of patients, who we cannot send away even if it is full to capacity," he said. John Tuwei, a patient, told The Standard he could not afford to pay for surgery yet he was covered by the National Health Insurance Fund (NHIF). "When I was admitted here, my condition was bad. My face had fresh injuries and stitches that made people fear sleeping with me. I enjoyed, but after healing, I am not able to stretch and have to be keen to avoid being harmed by my bed-mate," he said. The hospital serves patients from Nakuru, Bomet, Kericho, Samburu, Baringo, Nyandarua and Laikipia among others. At least 2,000 patients are treated daily, with 750 of them being inpatients.
SEE ALSO: Allow matatus back, MP tells governor
Hospital superintendent Joseph Mburu said there was an influx of patients at outpatient department due to increased referrals from other hospitals in Nakuru and neighbouring counties. Dr Mburu said lack of medical insurance cover contributed to the congestion. With 120 per cent occupancy, the orthopedic ward is the most affected. It has at least 71 patients, which is double the expected number of 36. "The hospital is receiving high number of patients, with the most affected being ward 10 that has patients with fractures and who require operation, but it remains a challenge because they do not have medical cover," said Mburu. The doctor said the intensive care unit had also received many patients referred from other facilities and counties. The hospital has six ICU beds installed with ventilators and blood test analysers. A nurse at the Mother Baby Wing said though bed capacity was 48, occupancy stood at 55.
SEE ALSO: Brace yourselves for delayed justice, CJ Maraga warns