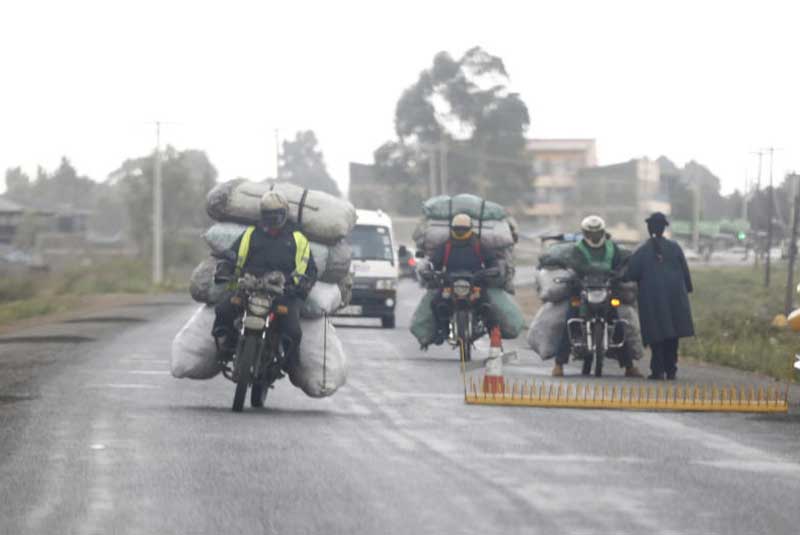 Charcoal business continues to thrive in Baringo County despite the ban on logging.
In February last year, the government imposed a moratorium on logging to allow reassessment and rationalisation of forests across the country.
Even with the ban in place some unscrupulous charcoal dealers have allegedly been colluding with police officers and Kenya Forest Service rangers to flout the rules.
A spot check by The Standard in Nakuru and Baringo counties established that charcoal business is on the rise.
The riders operate in convoys of between eight-ten and easily pass police roadblocks.
In a day more than 100 riders pass a police roadblock along the Nakuru-Mogotio road each with at least five bags of charcoal.
The riders say they get the charcoal from Mogotio and parts of Eldama Ravine in Baringo County.
Most operators make a stop-over near Kabarak where they strategize how they will approach police officers at a roadblock along the route.
When this writer approached the riders pausing as a buyer, they declined to sell the charcoal claiming offloading was tedious and the offer of Sh1,000 was low compared to the market price.
In Nakuru town, the charcoal trader make at least Sh2,000 per bag which they purchase at Sh750.
"We cannot sell the charcoal to you, your offer is far much what we will get, further offloading is tedious and you can wait for those carrying two and or three bags and negotiate with them," said one of the riders who declined to identify himself.
The Standard team followed the riders to a roadblock where they were flagged down by police and in a short while they were allowed to proceed with their journey.
"We are doing our work and police officers are doing theirs, we have no problem and we will pass the roadblock with our goods," said the rider.
A spot check along the Eldama Ravine Mogotio route reveals that charcoal burning is rampant. Charcoal dealers along the route display bags of charcoal by the roadside.
At Muserechi and Esageri centers we counted several bags of charcoal. The sellers however, cannot be spotted unless an interested buyer approaches.
One of the ladies who had displayed two bags of charcoal under a shade along the road said she had more in the store.
"This is just for display I however have more in store just in case you need, more" she said.
She disclosed that they cut down acacia trees which they burn to get charcoal.
She further said that harassment from police and environment officers was on the decline and it was now business as usual.
Similarly, in Marigat locals continue with the charcoal trade but they fell the dreaded Prosobis Juliflora commonly known as Mathenge.
Mau Head of Conservancy Fred Ogombe said yesterday he sent a team to crackdown on charcoal traders.
He said the ban on charcoal trade is facing resistance and illegal loggers have devised ways to evade arrest.
"Even today I sent a team to conduct a crackdown on the illegal charcoal trade, we will also have meeting with our counterparts in the police service to forge way forward," he said.
Charcoal burning he noted is illegal across the country.