New tarmac road peeling barely two months after carpeting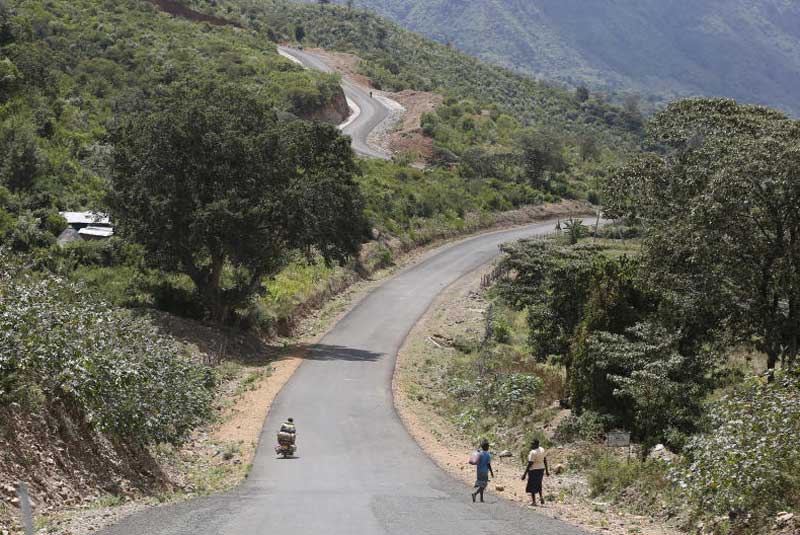 Residents of Baringo North are raising the alarm over what they describe as shoddy construction of a key road.
The Kabartonjo-Kipsaraman-Kinyach-Arror road is a 52km stretch that connects the region to the neighbouring Elgeyo Marakwet County. It was launched last year and so far five kilometres have been tarmacked.
Bartabwa ward representative Reuben Chepsongol said that barely two months after carpeting started, tarmac was already peeling off.
"I have met engineers working on the road several times and shared our woes that seem to be ignored. We are now waiting for audience from Deputy President William Ruto during its official launch," said Mr Chepsongol.
A visit by The Standard team established that sections of the road appeared to have been washed away, leaving behind potholes that were filled with stagnant water.
"The Department of Public Works and ministry of Roads should supervise construction of the road and restrict payment. This is the only way to compel the constructor to do standard work," said Chepsongol.
Sharp bends
Regular users of the road complained that its design left a lot to be desired, saying its narrow width and sharp bends made it difficult for lorries and buses to navigate.
Joshua Cheptirim, a boda boda operator, said he was involved in an accident at Barbarchum area two months ago, which he attributed to the road condition.
"My brakes failed at a sharp corner and I fell and sustained serious injuries. The road is not smooth. It damages tires and can easily contribute to accidents," said Mr Cheptirim.
Mattan Contractors Ltd Technical Manager Bernard Ongeri described the road as 'a low volume project' and said that because it lacked a proper design, engineers were having a rough time figuring out how to build it to expected standards.
"The government provide an alignment that is strictly followed during construction. We are not allowed to defy it," said Eng Ongeri.
The manager said that as much as they would want to make changes, it was difficult because of funds had already been budgeted for the road.
Kenya Rural Roads Authority (Kerra) Regional Manager Edwin Cheserek said they were aware of the concerns raised and there were plans to meet the contractor and have the issues addressed.
"Kerra is aware of the sharp corners and we have agreed when the contractor comes back, we will hold a meeting and all the issues will be addressed," said Eng Cheserek.