Widows of former Nakuru MP Dickson Kihika differ on Sh600m succession case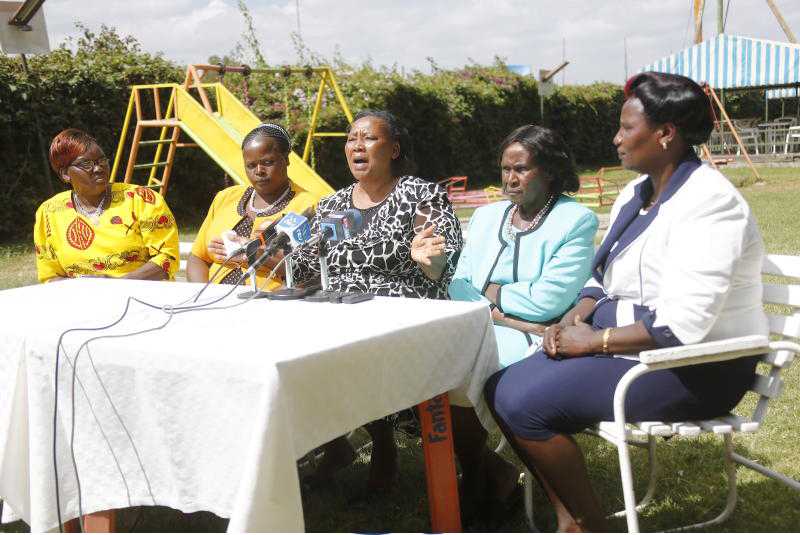 Three widows of former Nakuru MP Dickson Kihika Kimani have opposed plans by their children to oust them as administrators of a multi-million estate.
Court papers show only one of the four administrators is willing to be replaced by her son as the administrator of the estate.
Those opposing the takeover are Margaret Wambui, Mary Wangari and Miriam Warau.
Alice Mukuhi, 76, according court papers, is old and in the circumstances, is not able and available to practically co-administer the estate. She, therefore, has no objection to being replaced by her son Anthony Gichia. She has sworn an affidavit to that effect.
Mother willing
Mr Gichia, in his affidavit, reiterates that his mother is willing to be replaced.
"That Alice Mukuhi, who is my mother, is 76-years-old and infirm and in the circumstances is not able to and available to practically co-administer the estate and she has no objection to me replacing her as co-administrator," stated Gichia.
Lawyer Timothy Njogu confirmed to the court that there existed division among the widows, as three opposed the application he filed on behalf of the children of the deceased.
The decision to remove the four widows as administrators was reached in a meeting held in June 2018 at one of their homes in Engashura farm, Nakuru County.
According to the minutes of the meeting, 23 family members agreed to have the administrators removed. Thirteen of the members were present and 10, according to the minutes, agreed, some via email.
Nakuru Senator Susan Kihika, though absent, agreed to have the change of guard, according to the minutes.
The High Court in Nakuru had ordered the family to meet and come to a conclusion on which property to sell in order to raise money for searches and valuation for all the properties of the estate, which had not been transferred to their father's name.
A 30-day leave was given to the family to make the decision.
Four family meetings were held, but none bore fruit. In one of the meetings, only two administrators turned up. In another meeting held on June 21, the administrators were all present, but they planned for another meeting on June 23. On the material day, only one administrator turned up for the meeting.
The administrators on that date were seen to have totally failed the family with the handling of the estate affairs.
"...on June 23, the beneficiaries held the third meeting. It was resolved that the administrators had been unable to administer the estate of the late Dickson Kihika. It was further resolved that the administrators should be replaced," stated Gichia in his affidavit.
The case will be mentioned on December 11.
The estate estimated to be worth Sh600 million comprises parcels of land in Nakuru, Rumuruti. The former MP allegedly owned 1,000 acres in Njoro, Nakuru.
There are three plots in Naivasha and one in Nairobi valued at more than Sh100 million