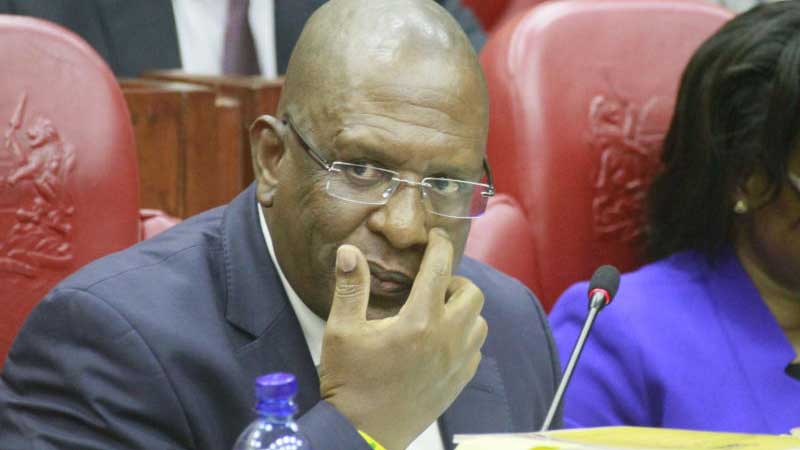 Tempers flared yesterday during a meeting between Environment Cabinet Secretary Keriako Tobiko and members of a parliamentary committee over the Mau Forest evictions.
The MPs were infuriated when Mr Tobiko ruled out compensation for those who have been evicted.
Briefing the National Assembly Committee on Environment and Natural Resources on the Mau Task Force Report, the CS maintained that those who had encroached on forest land had fake title deeds and there was therefore no legal basis on which they could be paid.
"The purported title deeds that those who have been evicted hold are not valid. If you have an invalid title you cannot transfer a parcel of land to another individual, no matter how many documents you sign. Those are paper title deeds," said Mr Tobiko.
A group of mainly Rift Valley MPs led by Hilary Kosgei (Kipkelion West) differed sharply with Tobiko, arguing there was no way he could declare documents issued by the Government fake.
Mere papers
"You cannot call title deeds issued by the same government you serve as mere papers. These documents were issued by the Lands office in Narok," said Mr Kosgei before he was censured by committee chairman Kareke Mbiuki.
"You are out of order, Hon Kosgei. With all due respect, let us give an opportunity to the Cabinet secretary to make his points no matter the position he takes. You will have an opportunity to interrogate him later," said Mr Mbiuki.
Tobiko continued with his submission, terming the forest encroachment an "ecological catastrophe" before adding that the key water water tower had been degraded through illegal settlements, encroachment, logging and charcoal burning.
Second phase
He insisted that nothing would stop the Government from flushing out those who had encroached on the forest, saying the second phase of evictions would begin soon.
The CS told the MPs that 716 individuals purported to have title deeds, 4,439 others claimed they had other documents such as letters of allotment, while 2,741 individuals had no documents.
"Compensation presupposes the validity of the title deed. As a CS and a lawyer, I will find it very difficult to defend the expenditure of public funds to pay off individuals who hold illegal title deeds," he said.
"If we decide to go that way, all those people who have constructed structures on riparian land and even those who have encroached on the Indian Ocean land will demand compensation. We will be opening up a Pandora's box."
Brute force
Ronald Tonui (MP for Bomet Central), Dominic Koskei (Sotik) and Beatrice Kones (Bomet East) put the CS on the spot over the manner in which the evictions were conducted, asking why those conducting the exercise used brute force.
"Why should the officers burn houses and clobber people as they conduct the evictions? Isn't there a humane way they can do the process?" Mr Tonui asked.
He added that by virtue of the many years the evictees had lived in Mau Forest, they could rightfully claim to own the land through the doctrine of "adverse possession".
Ms Kones and Mr Koskei echoed similar sentiments, saying schoolchildren had been displaced alongside their parents and exam candidates were unlikely to sit for their final papers.
But Tobiko told the lawmakers that the principle of adverse possession did not apply with regard to Government or public land.