Singing Nakuru cop survived Baragoi massacre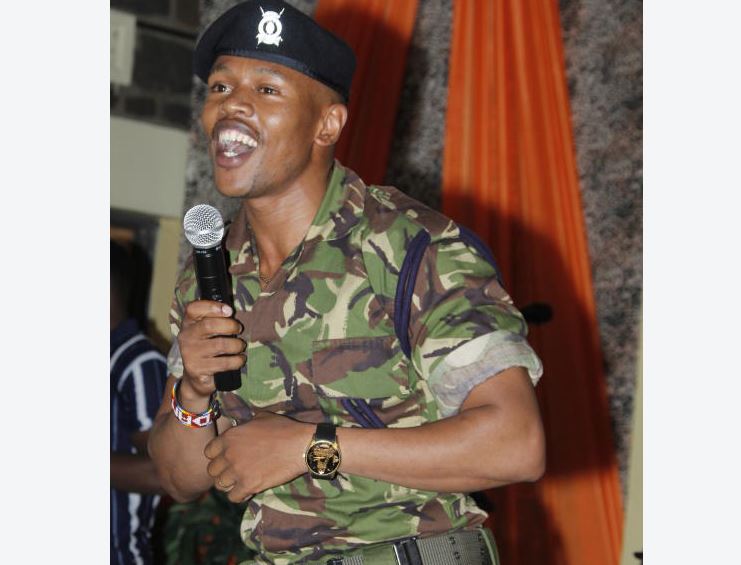 Corporal Daniel Mungai does not understand how he survived an ambush that claimed the lives of 40 colleagues in Baragoi six years ago.
He and his fellow police officers were on a mission to recover stolen livestock in Suguta Valley in September 2012 when they came under attack. Even though he escaped unscathed, Mr Mungai witnessed his colleagues being butchered. It is this experience that changed his life.
Mungai, 30, who also goes by his stage name Dantez, says the near-death experience led him to seek a closer relationship with God.
The officer, who is based at Nakuru Police Station, has always loved singing and knew he had talent. But he only explored it after the attack and ventured into gospel music.
"I dedicated my life to (Jesus) Christ and started singing gospel music," said Mungai when he launched his debut six-song album in Nakuru on Sunday.
"We had been in the police service for only two months when 100 of us were deployed to Baragoi. The suspected cattle rustlers took advantage of the terrain during the attack. Most of us were also largely inexperienced and unsure of Suguta Valley."
By the time of the attack, Mungai and his colleagues had not even received their first salary. Memories of the massacre remain fresh.
"My survival was a mystery. I can only describe it as a miracle. That is why I decided to serve God with gospel music as I continue serving my country."
He said the mission to recover the stolen animals was long and tiring. At the time of ambush, most of the officers were tired and unable to retaliate.
"There were three platoons accompanied by chiefs and police reservists, when we were ambushed. Only God knows how I survived."
The officer started singing immediately after the attack. He recorded six songs in Kikuyu, including 'Tiga Niwe', which means were it not for God, he would not be alive.
He later wrote a song titled 'Baragoi' in which he narrates the ordeal in Suguta Valley and thanks God for the miracle of his survival. He now has 15 songs to his name.
The officer also founded Mzalendo Initiative, an organisation that seeks to foster peace among communities. Launched in 2016, it has more than 3,000 members across the country.