More cries of families as Mau Forest eviction continues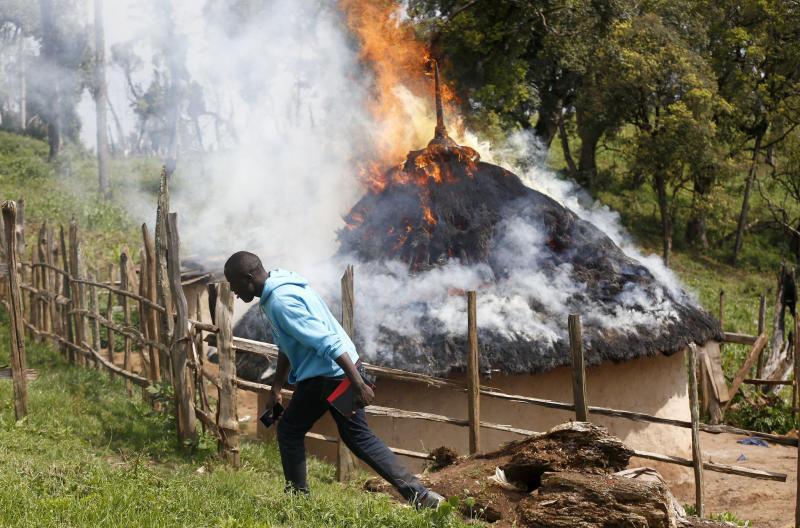 Richard Esongori, 36, from Olmekenyu village in Narok South left his home in Kisii in 1994 to Mau where he settled on an eight-acre parcel of land and started a family.
Esongori, a father of five, claims he bought the land from one David Sulunye at a cost of Sh130,000 per acre then, however not even a single document was given to him to show ownership.
Sulunye was reportedly the chairperson of the Ogiek who lived in the forest then.
Little did Esongori know things would turn against him years down the line and that together with his children they would sleep out in the cold.
Now Esongori, his wife Purity and their children have been spent three days in the bush after their house was demolished in the forceful eviction at Olmekenyu area.
Still missing
They say all their household items were destroyed by a group of merciless police officers. But all this is less of their worries now, because two of their children are still missing.
Esongori cannot hold back tears as he explains the misery they have been through since evictions started early this month. "We have been sleeping here in the cold, with my wife and children. We have no other place to go and after the officers demolished our house we opted to take cover in the bush with the few belongings left for us," he says.
The family says they had been warned not to be seen anywhere near their home.
"They came here on Thursday last week and found us still here and warned they will come back for us," says Purity.
Esongori's family is just one of those affected as hundreds of houses in the area have been demolished. Rooftops are opened, exposing the people to cold and rains.
Families were separated and some children left stranded, not knowing the whereabouts of their parents.
Grace Rono has four children with her, but she does not know who their parents are. She says she has been with the children for a week and has been trying to locate their parents in vain.
"When the eviction started people were beaten and families were separated. I have been staying with them since as they don't know their parents' whereabouts," says Ms Rono.
Eileen Cherop and Miriam Chepkurui are sisters in Standard One at Kirobon Primary School. Asked where their parents were, none of them could tell.
Chepkurui starts crying the moment we start asking about their parents' whereabouts.
The same fate faces brothers Emmanuel Kipsang and Josphat Kipngeno. Kipsang, a Standard One pupil, still has his uniform on.
Cut line
"People are crying, some even spend their nights by the road, families were separated during the eviction as we were told we had crossed the cut line," says Ms Rono.
Tabsabei Bii says he left his home to Chepalungu in Bomet County to attend a relative's funeral, only to come back and meet his home demolished. Her cowshed and goats' barn were left empty.
Bii says her three sons are missing but she and believes they are somewhere with the animals.
"What welcomed me was a group of dogs feasting on one of the goats. I'm disturbed since I don't know the whereabouts of my children and livestock. My legs too are aching because I've been walking around trying to trace them," she says.
Bii says she has been living on the land for over 30 years.
Benard Simotwo says he was hit by a metal rod on his left hand by a police officer who asked him to demolish his own house. He declined and the officers descended on him before he fled.
"I was asked to demolish the house by myself and I declined, little did I know I was inviting trouble," says Simotwo.
He says there is a lot of brutality and the officers are using force and intimidation to evict people.
Education in the area has been paralysed as 15 primary schools have been closed, shops have also been demolished, leaving residents with nowhere to buy food.
Richard Cheruiyot, a committee member at Olapa Primary School with a population of 340 pupils, says it is sad that their children have to stay at home while others study.
The schools are the only permanent structures in the area and their construction was reportedly funded by the government.
Cheruiyot says it is ironical that the same government evicting them had provided over Sh14 million to have the schools built.
Narok County KFS Ecosystem Conservator Mwai Muraguri however dismissed claims that there was an ongoing operation.
He said no one had been ordered to demolish or burn houses.
"Operations stopped on July 13 after the lapse of the 10 days. If anyone was ordered to burn houses, the matter will be investigated and action taken," says Muraguri.
Eggs, our holy grail
Every home has a food, or foods, that are staples.These are food items that everyone eats, that move fast and whose presence in the kitchen and fridge