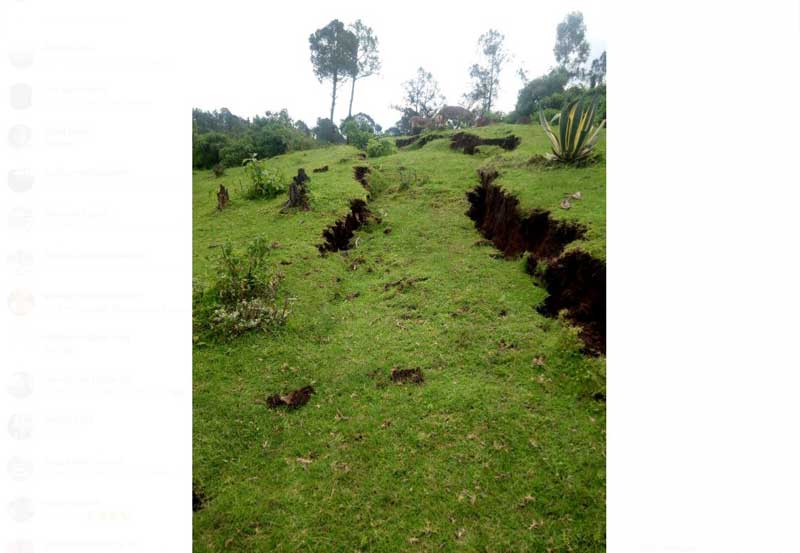 Residents of Chebewor village in Kipkelion East constituency are living in fear after cracks emerged on the ground splitting open their farms. Daisy Korir, the residents' spokesperson said the ground began shifting almost a week ago. The starting point of the tectonic shifts is the sacred Tulwap Kipsigis hill. The area is of significant importance to members of the Kipsigis community since it was where the community used to conduct circumcision rites. The most affected areas are Tulwap and Ewat village.
SEE ALSO: Contractor and Kericho county staff charged over graft
The cracks are currently at least 1,000 meters long and four feet deep. "One of the cracks has stopped just outside the homestead of one of the Tulwap villagers. The ground is soggy due to the heavy rains which have been pounding the area," said Korir. Speaking separately, Joseph Limo, the Kipkelion East Member of Parliament (MP) and Londiani Member of County Assembly (MCA) Stanley Bett called on the Government to assist the affected residents to relocate. "We also ask the residents on the cracks path not to wait until it is too late but move to safe grounds right away," said Limo. Geologists warn that, as happened some 25-30 million years ago, when Africa broke away from Eurasia at the Arabian Peninsula, similar rifts could be in the offing.
SEE ALSO: Agencies on the spot over collapsed Kericho building, as boy, 7, dies
Photos from Chebewor village in Kipkelion East constituency