Great Wildebeest migration delays as result of heavy rains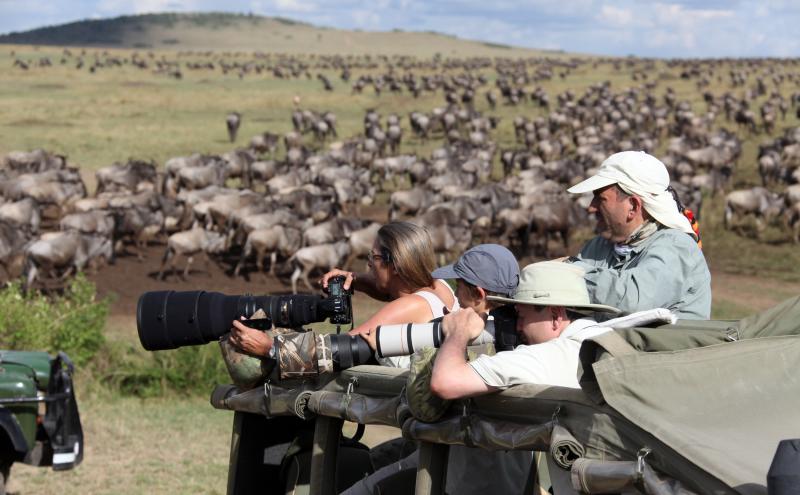 The annual wildebeest migration to Maasai Mara Game Reserve has delayed this year because of availability of pasture and water in Serengeti National Park.
When grass withers at Serengeti in north Tanzania, flocks of wildebeests start their annual migration to Masai Mara National Reserve in Kenya.
Last year, the animals started crossing the crocodile-infested Mara River on June 6.
However, this may delay this year thanks to the recent heavy rains that ensured availability of water and pasture in Serengeti.
Tourism Executive Joseph Koila said large herds of gnus were already converging at crossing points ahead of the spectacle where over one million animals cross between Serengeti and Maasai Mara ecosystems.
"This year's migration has delayed because of rains that kept grass green on the other side. This is unlike last year when migration started almost a month earlier. There is plenty of grass compared to the same period last year. That is why the wildebeests may not cross over as expected," said Mr Koila.
Large herds
He added: "Arrival of large herds of some of the wildebeests has been sighted in the western Serengeti and others along the crossing points. This shows the migration will start anytime soon."
The rains ensured many animals survived the dry spell. These include the calves born between January and February.
The Maasai Mara has been named the eighth wonder of the world because of the wildebeest migration.
Many websites have been giving live updates about the showpiece to keep tourists abreast. It has also seen local hotels record full bookings.
The live feeds are often accompanied with photos and videos directly from the Serengeti and Masai Mara.
"This year's migration dubbed 'World Cup Migration' is expected to be the biggest and is expected to last through September. About 98 per cent of hotels are booked," said Koila.
He said most of the tourists expected to view the spectacle are from the United States, United Kingdom, Germany, Canada, Australia, Japan and China, among others.
The wildebeests constantly migrate throughout the year in search of grass and water. However, the timing of migration from Serengeti is entirely dependent on the rainfall patterns each year.
Koila said security in all five entries to the Maasai Mara as well as at the airstrips had been beefed up ahead of the event.
"The wildebeest migration from Serengeti to the Mara is a lifetime dream safari to many wildlife lovers. This is also the peak season for hoteliers and businesses in the region to make profits," he said.