Nakuru town residents court diseases as water scarcity rages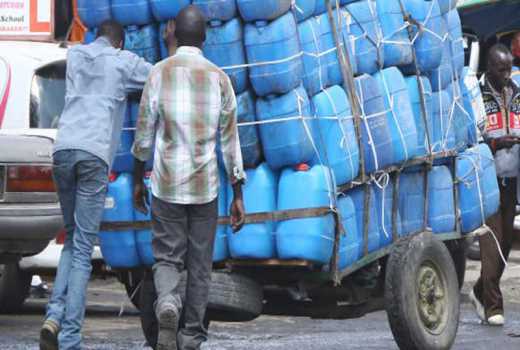 Acute water shortage has hit parts of Nakuru town and residents are crying foul.
Some areas such as Naka Estate have gone without a drop of water for over a month now.
Residents are worried their dependence on uncertified water sources could expose them to diseases, even as they continue to pay for dry taps.
Other affected areas include Stem, Barnabas, Section 58, Free Area, White House, Freehold, Shabaab, Kaptembwo, Racecourse, Kenlands and Langalanga.
Mary Wambui of Langalanga said she has not received any water for the past three weeks without clear communication from the water company.
"Taps have been dry despite having paid water bills," said Wambui.
Most worrying is that residents are buying water from unknown sources, an issue that might result in contraction of waterborne diseases. Vendors are selling water for between Sh20 and Sh40 per 20-lire jerrican.
Beatrice Koros, a resident at St Mary's Pastoral Centre estate, said they have been depending on rain water harvested several months ago.
Koros said there had always been a problem with regular water supply but it worsened in January.
Even with the shortage, she said she has been paying Nakuru Water, Sanitation and Sewerage Company (Nawasco) up to Sh800 every month in water bills.
Depending on vendors
"There are times we receive water twice in a week but now the situation has worsened. We have consumed the rain water we harvested and are now depending on vendors," said Koros.
She said they boil the water to avoid any health hazards and diseases that might result from contamination.
"We don't know the source of the water, there are times it is brownish, forcing us to boil. Other times the water is salty, but we have no alternative," she said.
Other residents are drawing water from River Ndarugu, which is contaminated with both solid and liquid waste from industries and residential areas.
There was a cholera outbreak in the town in 2015, which killed at least 20 people. At least 250 people were diagnosed with the disease.
Even worse, locals bathe in the river and there are many car wash points along the banks. Yet this is the water some residents draw for drinking and other domestic use.
Leah Wafula from Ponda Mali, five kilometres from the river, said although she was aware that the water was not safe for consumption, she still used it for lack of an alternative.
Nawasco director James Ng'ang'a said the company has been rationing water because of increased demand in the town and its environs resulting from increasing population and expansion of Nakuru County residential areas.
He said the company has a capacity of producing 45,000 cubic metres of water against a demand of 70,000 cubic metres.