Drugged mother loses baby girl along Narok-Bomet road in wave of bizarre kidnappings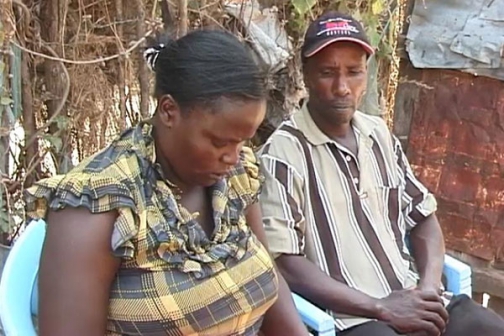 A one-year-old baby girl has gone missing in a puzzling incident in which the mother claims she was drugged on her way to hospital.
Emmah Njoki, 35, said she was taking her sick daughter to Ewaso Nyiro Dispensary when she was offered a lift in a black saloon car along the Narok-Bomet road on January 3, 2017. Along the way, the vehicle's occupants drugged her and took off with her baby.
"The vehicle had three occupants, among them a woman. We embarked on the journey and as we were approaching Ewaso Nyiro South where I was supposed to alight, I told them to stop but they hit me with a piece of cloth," Njoki recalled.
She claims that she lost consciousness soon after only to wake up in Mosocho, Kisii, abandoned along the road without her baby.
Njoki says she reported the incident to area police where she was referred back to Narok.
Nothing was stolen from her.
The family is now pleading for the safe return of their daughter.
Njoki's husband, John Mwangi, 45, a casual worker, said the incident is puzzling
"As a family, we have never wronged anyone in any way for our baby to be snatched from us just like that. Anyone with information on her should assist us knowing the pain we are undergoing as parents," said Mwangi.
Area OCPD Paul Kiogora asked the family to report the incident to the police, for proper investigations to be conducted.
"We are yet to receive formal complaint from her. We are therefore asking her to come to the station and record a statement for investigations to start," said Kiogora.
The incident comes hot on the heels of the kidnapping and subsequent rescue of a four-year-old boy in Thika town last Friday. Among the suspects in custody is the family's neighbour.
In Naivasha, police rescued a man held hostage in a bizarre incident involving relatives and friends.
A witness, Simon Waithaka, said the victim had been employed by a relative in his shop at Suberico estate near Naivasha town. The relative accused him of stealing cash and took him hostage demanding to be paid Sh33,000.
"The employer who is related to the victim called some friends and they beat up the man before calling his relatives, threatening to kill him if the stolen cash was not returned," the witness said.
Concerned family members called the police who laid a trap and arrested two suspects who led them to a house where two more suspects were also nabbed and the victim rescued.
A senior police officer confirmed the incident, saying the four suspects were in custody.
Akasha's sons charged in court over gun drama
Three Akasha's sons and fugitive Goswami were charged with affray in a Mombasa court. The court later released on them on Sh20,000 cash bail as police launch hunt for Ali Punjani.