Security officers take full charge at Afraha Stadium during prayer rally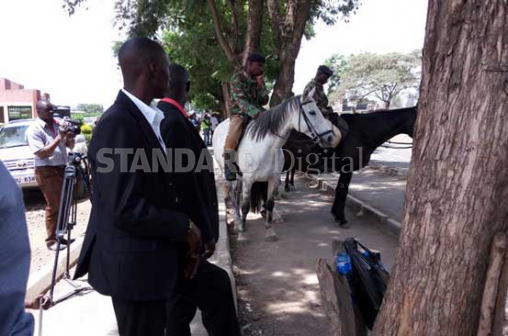 Security was beefed up in Nakuru town and its environs during the thanksgiving for the former Ocampo Six at Afraha Stadium.
Rift Valley Regional Coordinator Wanyama Musiambo said more than 5,000 officers had been deployed to manage the large crowd at the stadium and control traffic.
The main highway was manned by National Youth Service officers, regular police and Administration Police officers.
From horses to sniffer dogs, the security officers left nothing to chance. A section of officers rode on horses while some walked around with sniffer dogs.
Even in hotels and guest houses within the town, plain clothes officers could be spotted at receptions making inquiries.
Abbey Resort manager Boaz Ombonga said the officers visited the premise to ensure everybody was safe.
"Some officers came over and they checked things around the reception and made inquiries at the front desk. We cooperated with them because we know they mean well and they are just looking out for any criminals who may want to take advantage of the high influx of visitors," he said.
Earlier in the day, police officers arrested a man in the stadium who was found in possession of a live bullet.
"The suspect -Dickson Odour-was spotted with the live bullet, which he claimed he had picked along the road in the estate. He said he wanted to hand it over to officers," said an officer who sought anonymity.
And on Thursday evening, police arrested activists who were planning to demonstrate in support of the Internally Displaced Persons.
Meanwhile, hotels and guest houses recorded booming business as visitors who had come to attend the rally booked in at such facilities.
Hoteliers confirmed that most hotels in the town were fully booked by Friday evening.
Muriu Guest House located next to the stadium said guests started streaming in as early as Monday and by Friday they were fully occupied.
Jeremiah Kibe the owner said most guests received at the facility were from Rift Valley, Central and Nairobi who came to attend the thanksgiving rally.
KIbe said most of the visitors traveled in groups in hired vehicles and were expected to stay at the facility for a few days.
"There is high number of people still seeking accommodation but unfortunately, all the rooms are booked. Bookings begun immediately the President announced he will be holding a rally in Nakuru," he said.
Abbey Resort manager Boaz Ombonga told The Standard that the hotel was fully booked by Monday.
Ombonga said most of the visitors who came to attend the ICC prayer rally will check out on Monday morning.
He said most of their guests are police officers from various regions. The officers spotted at the facility were dressed in dark glasses and in black suits.
"There is no single room here, most people have been thronging in but unfortunately the booking was full by Monday and visitors are expected to travel back to various destinations on Monday," said Omboga.
Small scale traders also enjoyed booming business selling paraphernalia like Kenyans flags, umbrellas and other souvenirs.
Beatrice Kamau who sells drinks along the streets, said they were recording good sales and that security had been beefed up.
Wilfred Makori a guard at Abbey Hotel commended the security officers for being vigilant.
"Today I am so happy because my work has been made easier with presence of police officers patrolling all hotels. With such heavy security presence, I am sure there is no criminal who can dare misbehave," said Makori.