How my discovery of crude oil in Turkana County was stolen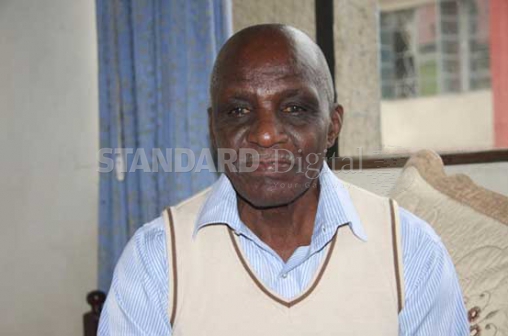 Nairobi Monday March 26, 2012. Straight from a long mid-morning function, President Kibaki, all excited, confirmed news that had been sweeping across newsrooms as mere speculation.
At the tail end of a rather colourless state function, Kenya's third president announced that the country had struck gold – a rich vein of black gold that would play a big role in transforming the country's fortunes.
The timing couldn't have been better. For years, the East African powerhouse looked enviously as her neighbours announced oil discoveries in their territories. This was Kenya's time to glow.
"I have been informed by the minister that our country has made a major breakthrough in oil discovery...this is the beginning of a long journey to make the country an oil producer," President Kibaki said.
As the announcement was made, an old man's heart skipped a beat. It was happening again. It seemed he just couldn't catch a break. In denial, he switched off his television.
"I thought I ought to have been part of the announcement. Perhaps the President didn't know at the time that I was the one who discovered oil," Dr Kengar Monena tells The Standard on Sunday.
But, Monena (pictured) says, big money, politics, a compromised Judiciary and insincere lawyers have all colluded or been co-opted into what he says is a grand scheme to keep him off the "fruits of my hard labour".
Dangerous times
Flashback to 1987, when a younger Monena, on a water drilling assignment for a European aid agency, chanced upon a liquid he thought would change his life forever.
"We were drilling a borehole in one of the villages up north. As the drilling went on, we noticed what was gushing out of the hole was different. It even smelt different, like kerosene, and after a short while, the extracts changed from a clear liquid to a blackish liquid. At that time I knew it was oil," Monena says.
After that, they moved the drilling to several other places and the results were the same. He was certain he had struck oil.
"I talked to my friends about the find and they convinced me not to tell more people about it," he says.
Monena and his friends were afraid of what might happen to them if they walked to then Energy minister Nicholas Biwott and declare his find.
"I wasn't sure what would happen. Those were dangerous times. Once you walked into a minister's office you wouldn't know if you'd walk out," he says.
So he decided to get a sample of that black substance and sit on the news. Until nearly 20 years later.
After the 2002 general election, Monena felt comfortable enough to finally inform the government of his find. He had all the coordinates and, he says, knew Pokot and Turkana like the back of his hands.
"It was time. I knew, or thought, those in government then were noble and of good intention," Monena says.
On December 13, 2005, Dr Monena, through his company Interstate Mining Company, sent samples of that black substance to the Kenya Petroleum Refineries Limited (KPRL) under the Ministry of Energy. A letter accompanying the samples reads in part as follows:
"This is to inform you that we have been carrying out drilling programmes in Turkana and West Pokot areas of Rift Valley Province to prospect for water for local communities. In the course of our work we encountered a black substance smelling like kerosene which we suspect to be crude oil. This is a request to your office to carry out chemical analysis of the substance provided in the three samples..."
Two weeks later, on December 30, 2005, Monena got a reply from KPLR. His sample had been tested.
"Our opinion is that this material is more likely to be fuel oil. This is however not a full analysis, however, due to the small sample size delivered to KPRL, a larger sample is required to enable a conclusive analysis and we can provide the correct sized sample bottles if required," read the communication from the state oil agency.
Excited, Monena ended that year on a high and couldn't wait for 2006. He had grand plans. Grand plans drawn up over two decades.
And on January 3, 2006, through his contacts, Monena reached out and got in touch with the Norwegian Secretary of State for Energy, who referred him to the Norwegian embassy in Nairobi. He also reached out to then Energy Permanent Secretary Patrick Nyoike.
"We set out to ensure everything was in order, even meeting Mr Nyoike," Monena says.
"The meeting was brief but detailed. I was asked to give details of the location of my find including the amounts of the samples retrieved as well as another batch of samples for a new round of analysis. The PS then promised to get back to us," he says.
Exploration consents
Meanwhile, Monena, through his company Interstate, with help from the Norwegian government, had engaged top gear in preparation for the inevitable exploration and exploitation that lay ahead.
Interstate applied for exploration consents from the county councils of Pokot and Turkana. By mid-2006, permission was granted by both counties in writing and copies of the consent letters copied to the Ministry of Energy.
Unknown to him, plans were being hatched elsewhere regarding his find. And his role in the discovery would remain only known to him. From then on, his excitement of telling the world about his discovery would be replaced by despair as fate and what he calls a flawed judicial system conspired to kill his dreams and relegate him to a black hole of court proceedings.
It all began with a second communication from the Ministry of Energy regarding the sample Monena had provided for further analysis.
A letter to him from the Ministry of Energy dated July 14, 2006 said the following:
"The material you presented for testing was tested at the Kenya Petroleum Refineries Limited and was found to be black and very heavy. The sample was found to be heavier than the crudes processed at KPRL. It had significant amounts of water which could not be separated in the KPRL laboratory and as a result, no distillation could be done on the sample...given this position, I am exploring other avenues for testing your sample. I will keep you posted on the progress."
The letter was signed by Permanent Secretary Patrick Nyoike. Unlike the initial results from KPRL, this latest letter did not come with a chemical analysis report.
This was the last communication Monena and company got from the Energy ministry. But he still pushed for the granting of an exploration permit into Blocks 10B and 11.
Meanwhile, one of the two mining blocks on which Monena had struck oil had somehow elicited interest from another company, Turkana Drilling Company (TDC).
Investigations by The Standard on Sunday show that the company granted an exploration permit in late 2007 was at that time co-owned by two Kenyan businessmen Yunis Mohamed and Amyn Lakhani plus two other foreigners.
One Jurg Hemann, a taxi owner and operator in Switzerland and Albert Raponi a Canadian legal expert with interest in the oil business.
Yunis Mohamed was a longtime Ford Kenya insider. Subsequent court legal processes by TDC were executed by Wetang'ula, Adan and Makokha Advocates, a firm in which the then Assistant Minister Foreign Affairs and current CORD co-principal Moses Wetang'ula was and remains a partner.
"I have never dealt in anything to do with oil. I own neither an oil block nor shares in an oil mining and prospecting company," Wetang'ula told The Standard on Sunday.
"This was a plot by my political detractors to tarnish my name. In the fullness of time the truth shall be known," he added.
As this went on, Dr Monena continued to write to the Ministry of Energy seeking an exploration and production licence.
"By this time, our partners in Norway had already pulled out. But we hadn't given up hope. Despite numerous visits to the Ministry of Energy and several letters requesting the granting of a permit, we got no feedback," he says.
Nearly two years later, on August 26, 2009, he wrote to President Kibaki to inform him of his find. Part of the letter, which was received by the Principal Administrative Secretary in the Office of the President on January 18, 2010 reads as follows:
"Good news to you your Excellency. Interstate Petroleum Company Limited has struck oil in Kenya long before Uganda. Unfortunately the Minister of Energy has robbed us of this God given find. He has given a Petroleum Exploration Licence to foreigners and denied us the same using our oil sample...our petition is for you to intercede forthwith and grant us an exploration licence on blocks 10B, 10BB, 13T and 12A..."
To date, Interstate awaits a reply from OP. By the time he was writing to the president, the licence had already been granted to Turkana Drilling Company.
A secret memo from 2007 titled "Remittance of US$1million by Turkana Drilling Company Before The Scheduled Negotiations" from the Office of the Permanent Secretary, Ministry of Energy to Moses Wetang'ula alludes to a phone conversation between Wetang'ula and Nyoike, during which a sum of $1 million was transferred to a bank account thought to be associated with the ministry.
"I would like to refer to our (Hon Wetang'ula/Nyoike) telephone discussion this morning, Thursday July 5, regarding the above captioned subject. It would be appreciated if Turkana Drilling Company remit US$1 million into the account of the Ministry of Energy...negotiations for Production Sharing Contracts (PSC) for blocks 10BA and 10 BB will be held within three days of receipt of the US$1 million as signature bonuses."
The Mining Act is silent on signature bonuses. However, the Kenya Government gives the National Oil Corporation of Kenya (NOCK) Sh100 million annually to undertake preliminary exploration surveys. Data from these surveys is then sold to various companies that might be interested in exploration.
Monena is confident that it is the data from his initial survey and test results from samples provided by Interstate that were sold to TDC. It is also noteworthy to mention that the PS Energy sits on the NOCK board.
"By 2010 we realised things were not working as we expected," Monena says. "We wrote to the Attorney General over the manner that we had been treated by the Ministry of Energy."
The letter to the AG raised several accusations. Interstate accused Nyoike, the PS, of abusing secrets of Interstate Petroleum and of collusion with TDC to deny his company an exploration permit.
By the time we went to press, the former PS had not responded to phone calls or questions via text message posed by The Standard on Sunday.
As this was being done, ownership of the mining blocks was changing. Fast.
TDC sold its mining and exploration rights to Canadian firm Africa Oil Corporation for US$30 million.
Mining rights
That same year, Africa Oil Corporation and another of its sister companies Centric Oil sold half of their operations to Tullow Oil gaining mining rights to blocks 10BA, 10BB, 10A, 12A and 13T. Two years later in 2012, Tullow increased its share in several of the initial five blocks significantly.
And in early March 2012, the big oil companies got the president's ear resulting into that big announcement to the nation:
"I have been informed by the minister that our country has made a major breakthrough in oil discovery...this is the beginning of a long journey to make the country an oil producer," President Kibaki said.
With that, Monena's heart skipped a beat, and since then its beating has never been quite right.
The frenzy that accompanied that announcement was enough to sweep away anyone who would challenge the legitimacy of the discovery.
In a press conference, soon after the president's announcement, Tullow termed the oil samples as "high-quality oil that will yield more gasoline and diesel per barrel than some other crude discoveries in Africa".
In 2006, a sample from the same block provided by Interstate was dismissed by the PS energy as containing too much water.
Monena just couldn't sit back. Letters to the ministry or even the highest offices of the land had done him little good thus far. He turned to the Judiciary.
"After all, I knew I had the truth on my side. What could go wrong?" he adds. He was unaware at that time, but many things could and did go wrong. And just four months after the announcement on the oil discovery was made, his years-long affair with the judicial system began.