Panic as oil pipeline bursts in residential estate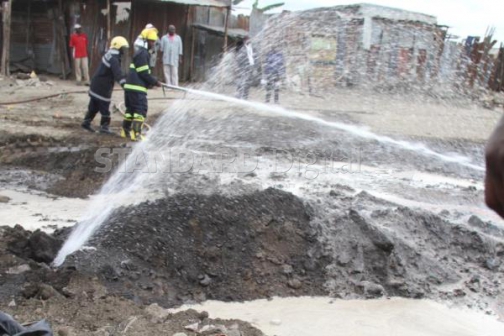 There was panic at the sprawling Kaptembwo slum in Nakuru town after an oil pipeline burst, gushing out thousands of gallons of petroleum products near a power line.
Police from a nearby police post thwarted attempts by hundreds of residents who wanted to scoop the spilled fuel flowing through a storm-water drainage in the Friday incident.
According to a resident, Peter Ondieki, a bulldozer working a road damaged the pipeline belonging to the Kenya Pipeline Corporation that passes through the slum.
"I was in my shop when I noticed a water-like substance gushing out in the middle of the road. When I realised it was oil, I quickly called the area chief, but he took time to respond so I decided to call area MP Samuel Arama who informed police officers, Red cross officials and fire fighters," Mr Ondieki said.
Officials of the corporation arrived at the scene two hours later to seal off the leakage but not before thousands of litres of super petrol had gone to waste.
Nakuru OCPD Musa Kongole said the matter was being investigated even as he thanked residents for alerting security personnel in good time.
"Members of the public were curious to know what was happening, but with collaboration of police officers we kept them at a distance," Mr Kongole said.
He noted there were no injuries reported and called upon members of the public to keep off scenes with inflammable liquids to avoid loss of lives.
Mr Arama said the accident was caused by a grader that was working on one of the roads.
"The grader which was constructing the road accidentally damaged the pipe," he said.