Comic but tragic story of fake top cop Joshua Waiganjo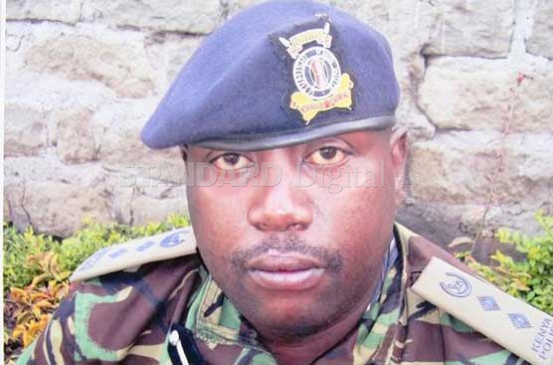 NAKURU: As convicted police imposter Joshua Karianjahi Waiganjo begins his five-year jail term at the Naivasha GK Prison, his story – how he was arrested, the prosecution and incarceration – remains a puzzle for many a Kenyan.
Describing Waiganjo as a master of disguise would be an understatement. He would be a perfect fit for any rank in the police structure and his script would be great material for a blockbuster movie of Hollywood standard; a plot rich in comic and fantasy but a tragic indictment of the country's security.
Testimonies from witnesses called by the 2013 commission set up to unravel the mystery of Waiganjo shocked and awed. From inspecting a guard of honour in Londiani, Kericho County, to taking charge of former Vice President Kijana Wamalwa's burial, the Standard Eight drop-out and former matatu conductor achieved what many better educated real police officers can only dream about.
While most senior police officers are yet to enjoy the privilege of inspecting a guard of honour, the burly fake cop inspected a guard mounted in his honour by officers at the Kenya Forestry Institute in Londiani in 2012.
A witness, David Ngige, told a team led by Mary Owuor that investigated his activities two years ago that Waiganjo, who passed himself off as a senior police officer for five years, represented Rift Valley Provincial Police Officer John M'Mbijiwe at the pass out ceremony where he inspected a guard of honour to the bewilderment of the panel.
And that was not the only fish-out-of-water tale that shocked the investigating committee. It emerged that during the burial of Kijana Wamalwa, which was attended by high ranking dignitaries led by then President Mwai Kibaki, in one of the court hearings, a witness testified that Waiganjo was in charge of the VIP transport.
CONFLICTING RANKS
The tricks he used in his scam as narrated by both senior and junior officers who testified will keep Kenyans puzzled at how easily he fooled those he dealt with. Though he would often wear the wrong kind of uniform, often failed to follow police procedures and allegedly made conflicting claims about his rank and position in the force, every uniformed officer squirmed at his presence.
One of his victims was former Nakuru District Criminal Investigations Officer (DCIO) Lawrence Nthenge, who he allegedly ordered to pay for lunch for alleged incompetence. Former Njoro OCPD Peter Njeru told a bewildered committee of the odd punishment during the 2013 hearing.
"He castigated the DCIO during the meeting at Baragoi, Samburu District for failing to follow instructions and ordered him to foot the bill for the lunch we had taken," said Mr Njeru.
In his testimony, Njeru portrayed a man who ruled with an iron fist and whose instructions you would only defy at your own peril.
Waiganjo would at his beck and call have junior officers running errands for him and would also effect transfers, further instilling fear on many within and outside the service.
Chief Inspector Julius Kyalo Kalinda recalled how the fake cop posed as the Tana Delta OCPD and ordered two trucks impounded for suspected criminal activities released.
"He called me to warn me of dire consequences if I did not heed his directive," said Mr Kalinda. And, true to his word, he and four other OCSs handling the case were transferred to far-flung stations of Turkana, Loitoktok and Eldoret. Witnesses claimed Waiganjo was also a master of disguise. When he first paid a courtesy call on the Njoro OCPD in July 2012, he introduced himself as the Staffing Officer Operations based at the Anti-Stock Theft Unit headquarters in Gilgil.
"He was in full jungle uniform, wearing the rank of a Senior Superintendent of Police," said Njeru. During the meeting, Waiganjo claimed the then Commissioner of Police Mathew Iteere had promised to promote him to the next rank.
"After one week, true to his word, he came to my office wearing the rank of an Assistant Commissioner of Police," said Njeru. That Waiganjo exercised great influence within the force and intimidated officers and had others transferred is not in doubt as Njeru experienced firsthand.
"At one time, he told me they had agreed with the PPO that the Naivasha OCPD Levi Oponyo be transferred. True to his word, Oponyo was transferred the following day," he added. Njeru said Waiganjo would often show him his phone with incoming calls from a number saved as "Combo Iteere" before engaging in conversations with the "Commissioner". He would also boast about his ties with M'Mbijiwe. "For the PPO, he would put his mobile on loud speaker and later hand me the phone and ask me to talk to my PPO," he added. Waiganjo also took advantage of his fake rank to endear himself to women in the force. He allegedly asked the PPO to allocate Ms Esther Gathige day time duties after she complained to him that she was not comfortable with the night shift and needed time to spend with her baby. Gathige then worked as a driver at the CID Rift Valley Provincial headquarters.
BUNGLED OPERATION
Corporal Joel Mopel, a driver to the interdicted ASTU Commandant Remmy Ngugi, said under instructions from his boss, he took Waiganjo to a Nakuru medical facility for treatment and later drove him back to his home at Syndicate estate in Gilgil.
"At another time, I was told by my boss to go and pick Waiganjo and take him to the PPO's office in Nakuru. When I went to pick him from his house, I found him in full Assistant Commissioner of Police Uniform and when he entered the vehicle, he remarked 'unaona mimi ni mkubwa wa polisi'," Mopel testified.
In his testimony, West Pokot OCPD David Wambua described the imposter as a man who would not entertain any inconvenience. He told the investigating team of an incident when M'Mbijiwe called to inform him that Waiganjo was on his way to the station.
"Rather than wait, I decided to attend to other duties. This decision almost cost me my job. When M'Mbijiwe learnt that I was not in the office, he called me and ordered me to go back and attend to Waiganjo," he said.
Wambua said Waiganjo introduced himself as an Assistant Commissioner of Police in charge of reservists in the Rift Valley who had been sent to open a personnel file in far flung Kapenguria.
"I was extremely disturbed and knew there was a problem as letters of appointment for Assistant Commissioner of Police are not authored by a person of my rank," he said.
And it is Waiganjo's inclusion in the bungled Baragoi security operation that blew the lid off the little known secret of the fake cop. The committee was told that his role in planning the Baragoi operation where 42 police officers were killed pointed to a major security breach in the force, according to Njeru, the former Njoro OCPD.
He further told the committee of how the imposter participated in a delicate security meeting to plan the operation and boarded the police helicopter with his brother Gerald Maina.
That Waiganjo exercised great influence within the force is not a matter of contention. Even as he starts his five-year jail term, it still remains unknown on whose behalf he really acted.