Medic: Number of snake bite cases increasing in Baringo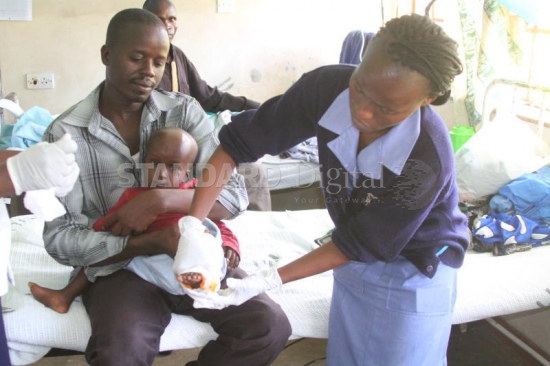 KABARNET: The number of snakes bites in the county have increased significantly in the last one year.
Kabarnet District Hospital Medical Superintendent, Dr Kays Muruka, said while some 40 cases have been reported, many are still going unreported because of the remoteness of the regions where the incidences are rampant.
Dr Muruka identified the worst affected areas as Baringo North, Kerio Valey, Tiaty and Baringo South.
He said in the last few months, 34 cases have been reported at Baringo District Hospital and that there are currently five people admitted at the hospital due to the same, four of whom are children.
"There has been a significant increase in cases of snake bites in the last one year since most parts are now dry which makes them ideal habitats for snakes," Muruka said.
TOUGH TERRAIN
The mostly dry, hot and bushy region is home to snakes that include the black mamba, puff adder, tree snake and spiting cobra.
Dr Muruka said it has been challenging to offer appropriate treatment since venom varies from one snake to another.
"We have different types of snakes in this areas whose venom is very diverse and requires different treatment modes. Some are highly toxic and kill very fast while others paralyse you immediately they get into the blood stream," he said.
The doctor said many fatalities are realised, not because they lack the expertise to treat them but because of the terrain which makes victims get to hospital too late.
Samuel Kiptoo's child, who is currently admitted at Baringo District Hospital, was bitten by a snake on the left leg two weeks ago while sleeping.
"The child cried through the night and it was not until morning that I realised his leg was swollen. I took him to the local dispensary who told me it was a snake bite and referred me to Marigat District Hospital.
We stayed there for one week and when his condition got worse, we were transferred here," Kiptoo said.
Dr Muruka said challenges faced by most local facilities is improper administration of anti-snake venom to snake bite victims which has resulted to more fatalities.
"If you do not administer the anti-venom in the right way, you may lose the person not because of the snake bite but because of complications arising from wrong administration of the anti-snake venom drug," he said.
He said the county government should train health workers in regions where snake bites are rampant on proper handling of snake bite victims and also availing anti-venom drug to the facilities.