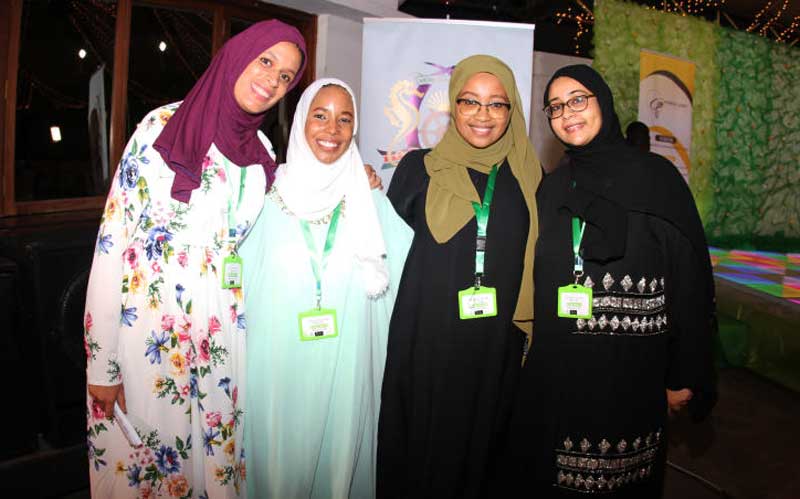 In the spirit of giving during the holy month of Ramadhan, a group of young women Muslims entrepreneurs have launched an independent programme that will benefit hundreds of orphans and single mothers in Mombasa.
The initiative launched during the break of Iftar at Wild-Waters last Saturday will see two orphanages-- Hanan Orphanage and Nuru CBR Centre, benefit from the funds raised during a Charity at an Iftar Dinner.
Kauthar Mbwana, Nadia Naddy Ahmed, Raisa Ismaily and Dr Tayba Hatimy have come together and organised the If-tar dinner to source funds that will support the orphanages during and after the special month.
The Chief Guest, Mombasa County Governor Hassan Joho pledged his full support to the initiative and applauded the women for their thoughtful initiative.
"We will work with you on the orphanage initiatives and projects and we will follow your footsteps and support more orphanage homes," explained Joho.
Joho called upon the youths to have a positive mindset and focus on the rights in society instead of focusing on the wrongs. He said that the youths should change the narrative by assessing their own abilities and being responsive to them and see what they can do for society.
"Change the narrative and assess your own ability and be responsive to it and what you can be and do for society," said Joho.
The governor urged youths to be ambitious in life and know what they want to achieve.
"Do your soul searching and reflect on what you have to do and be responsive. Come out of your comfort zone and contribute to the wellbeing of society.
Kauthar Mbwana said they decided during this Ramadhan season to contribute funds that will see orphans and single mothers supported through various entrepreneurial projects.
Mbwana who also teaches at Aga Khan said that they intend to teach the young children and the community on how to achieve sustainability and independence.
"We decided to give back to the community but our aim was to give beyond the Ramadhan season. So we decided to come up with an empowerment program that will ensure that the orphans and single mothers are empowered through sustainable projects that will make them independent," said Mbwana
Dr Nadia Naddy who is the founder of Fiercelady said that they intend to work with the community to successively achieve sustainability and independence in orphanages.
Dr Nadia said that the charity Iftar fundraiser was not only to feed the children and single mothers during the Ramadhan period but also to bring all Muslims together for a big cause of supporting the orphans.
She said that they will be starting their program with Hanan Orphanage in Bamburi and Nuru Center in Jomvu. Dr Nadia urged the Muslims to take the opportunity and be more involved in sustainable programs for homes such as.
Dr Nadia said that such projects will not only empower the orphans and the single mothers but also give them a chance to stand on their own and make something out of what they have.
"We should strive to be a community where homes don't stay stuck because of basic necessities, rather one where sustainability is their anthem. For this can be passed to 10 other homes around them," said Nadia.
She called for the support of their projects and the sustainability notion to be able to help the orphanages stand on their own and help grow other initiatives yet to be unveiled.
"As I always tell my mentees, a community that works on sustainability, is a community that thrives of happiness and growth," said Dr Nadia.
The women said that they intend to build Early Child Development ECD classes at Nuru CBR Center as they already have two teachers employed by the Teachers Service Commission.
She said they also intend to buy a water pump to start an irrigation scheme and help the orphans in food sustainability.
Dr Nadia said they will also help them in poultry farming where they can be able to sell off the products and get funds to sustain themselves.
Dr Nadia said that they will also open a canteen for the orphanage and stock it with cereals so that they can be able to raise income that will help them sustain their other projects.
"We also seek to have the children attend voca tional training on certificate courses to be able to get job opportunities in society," said Dr Nadia.