Ian the irresistible
PULSE
By - | February 8th 2013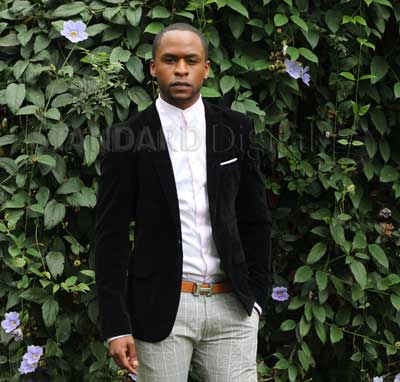 Charming actor, fashion model and TV host Ian Mugoya, 23, finally opens up on the break up with his rich ex-girlfriend, his affair with popular socialite and model Huddah Monroe, among the many controversies that dog his private life, writes Austine Okande
Pulse: When did you make your debut on the entertainment scene?
Ian: My inaugural appearance in the entertainment scene was in 2008 as a model with the Versatile Agency and Talent Management. My official debut was in 2010 when I landed an acting role in the award-winning television drama series Changing Times — where I acted as George Moka, a smooth guy with suave swag.
P: Did you quit modelling?
I: No. I just opted to explore my other talents. I still practice freelance modelling.
P: What was all that buzz about you being a gold-digger dating a super-rich chief executive officer?
I: Now that is the price I have to pay for being a public asset. I have never dated any high profile CEO. An ex-girlfriend staged all that after I ditched her.
P: The affair with Anerlisa Muigai was quite an open secret, one that made a good fodder for the paparazzi. How did you hook up with the wealthy girl and how was the relationship?
I: I met her through a mutual friend. Just like any other relationship, it had its ups and downs.
P: You were quite close with her entire family, getting preferential treatment, as a son would. It was even rumoured they were dressing and housing you besides offering you posh rides for your social outings...
I: That is not the gospel truth. My parents always provided me with everything I ever needed. Besides, I have been working with a notable branding company. I have friends with lavish cars among them Shaffie Weru, Face and Maina Kageni, who let me roll around in them with my friends. That's what I can say about that vibe. However, her family was good to me and I respect them.
P: Your ex-girlfriend used to walk around with a bodyguard. Was the relationship being monitored or was someone insecure?
I: The relationship was not being monitored and neither of us was insecure.
P: We hear she had to cut links with you as her family did not think you had the right corporate image to compliment her ambitious business ventures. Did that ever contribute towards the break up?
I: I have no hard feelings, whatever the case could have been. Sometimes you start off a good thing and later find out that your visions are not the same. Her mother served as a mentor to both of us and that is all that mattered to me. We agreed to split.
P: On the night of the break up, you were spotted in Skylux Lounge in Westlands (Nairobi) getting rather cosy with another girl. Were you playing her?
I: I cherish relationships. I would not go against the precedents set. Besides, I do not have time to play retrogressive games.
P: There is also the talk about you and socialite-cum-model Huddah Monroe. Are you two an item?
I: No. I am not dating Huddah. She is a very close friend. Honestly, I don't think the two of us can date. Some people bring out their best in you as friends.
P: But the sexual suggestive photos splashed on social media depict more than that. Is there a cat in the bag?
I: I have nothing to hide. We are just friends. And in case you might want to take this one for the record; I am not dating anyone at all.
P: Are you aware that there is a Facebook page where you, among other celebrities, are listed as hot gold-diggers in town?
I: That is a consolation page set up by those haters who still do not believe that I am conquering the showbiz scene. I have never blackmailed anyone for his or her cash.
P: The same social media fuss alluded that you are gay...
I: I am as straight as Indian hair.
P: Do you, at times, feel agitated when people invade your personal space?
I: Not really. I am an entertainer and if that amuses them, why not.
P: How do you cope with all that negativity?
I: I have seen blogs post souring false trending topics with some seeking bribes up to Sh10,000 to sell a story. I often pray and focus on my desires.
P: You are in the class of flashy young actors and TV personalities reshaping the entertainment scene? Do you view your being in the spotlight as a challenge?
I: My success in the entertainment scene is a work in progress. Everyone has their reservations on what I should be and who I should not be, and that is right as they are all entitled to their opinions. For me, small things count.
P: Have you always been the hype and happy chap you are today?
I: I make the best out of any situation.
P: Tell us about the new-look Str8-Up?
I: We call ourselves 'Team Don't Sleep'. There is something new for everyone, everyday. Our audience choose who and what they want to watch. It is a very interactive show where everyone has his or her say.