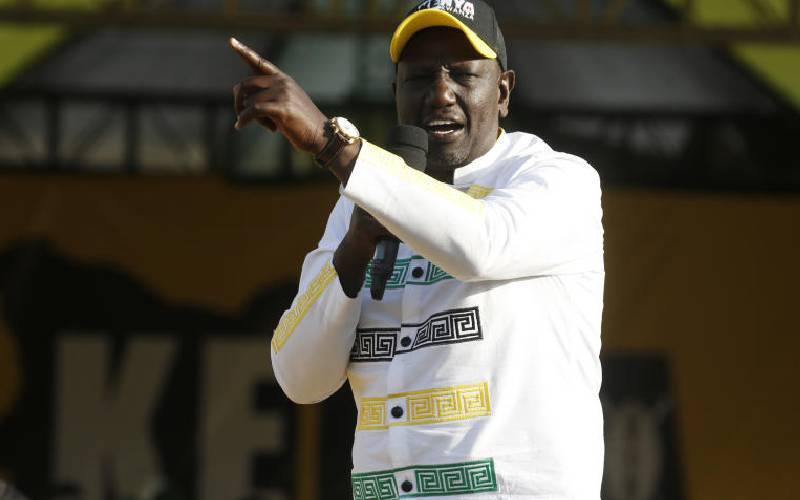 In his final rally ahead of Tuesday's election, Deputy President William Ruto stuck to a familiar message of his campaign, framing the vote as a contest between the people and a deep state and doubling down on his criticism of President Uhuru Kenyatta and Azimio la Umoja presidential candidate Raila Odinga.
Ruto, speaking in front of thousands of supporters at the Nyayo National Stadium in Nairobi, accused President Uhuru of attempting to meddle in the election, dismissed Raila as the president's stooge and a project out to impoverish the country through conflict of interest.
But Ruto started off his address by painting his candidature as unlikely and against the odds. He said that there were people who did not wish to see him on the ballot.
"This Kenya does not belong to a few people or to a deep state or system. This county belongs to every Kenyan under God," he said. "We are going to have a nation that leaves no one behind."
"Today, you are witnessing history, they said that we will not be here or on the ballot. We will overcome, enough is enough and freedom is coming."
Ruto's message was tailored to animate his supporters. They cheered and waved yellow flags as he said the time was over for President Uhuru.
Yesterday August 6, 2022, was the last day for campaigning according to the calendar released earlier in the year by the Independent Electoral and Boundaries Commission (IEBC) before polls open on Tuesday at 6 am.
Ruto preceded the rally in Nairobi with stops in Suswa and Mai Mahiu which took the entire morning and kept his supporters in Nairobi waiting until 2 pm.
On Tuesday, he said, it would be about the people and a victory for Kenya Kwanza Alliance would be the will of God.
The DP said that when the results are announced he would respect and accept the outcome.
"We are democrats and believe in institutions and we believe that a peaceful Kenya is good for everybody irrespective of which side of government they are, or their colour, religion or community," he said.
Ruto did not really go for a closing message but doubled down on his attacks on President Uhuru and Raila saying that the duo handshake had enabled state capture that made it easy for corruption to thrive.
He also suggested that jealousy - a concern that he would do better than Uhuru did as president - was part of the reason why he and the President fell out and he supported Raila.
"I will respect the things we did together but I will build on that foundation and it is going to be phenomenal. You do not need to worry that I might do better than you have done, it is our country we are trying to build," Ruto said towards the end of his speech.
He said that Raila could not be trusted with public finances since he 'ran a laundry' that cleared the names of those tainted with corruption.
"(Handshake) has caused those in the executive and in the opposition to work together against the people of Kenya and that is why money that was meant for sick people was stolen at Kemsa and they told us that they were going to investigate," he said.
The Kenya Kwanza candidate said that it was almost three years since the money was stolen and no action had been taken against the perpetrators of the scam.
"I want to tell my competitor that he cannot give us a lecture about corruption until you tell us when the people in Kemsa will be taken to court," said Ruto.
Kenya Kwanza's commitment to fighting corruption has been questioned in light of allegations against him and his running mate Rigathi Gachagua.
But Ruto made a promise to his supporters yesterday that "your money will not get lost or stolen and that corruption will not eat your future or destroy your plans".
"We are the only team that has a plan on fighting corruption. We are the only ones who can dare fight state capture," he said.
Ruto explained to his supporters at Nyayo his plan to lower the cost of living, make education affordable, turn around the economy and provide jobs, interest-free loans to small businesses, healthcare insurance and create a criminal justice system that would not discriminate.
He gave an impassioned speech, putting himself with the people and committing to send an inconsiderate government home.
Ruto's final message was a message that he has had since he began campaigning to succeed President Uhuru.
He said that he and his coalition had proven to the powers that this election would not be about changing the constitution but about changing the economy.
"They told us it was about sharing positions but we told them no, it is about creating jobs for the youth of our nation,"
Voting for him, he said, was choosing the future and a leader who has a plan for the future.
"On Tuesday you will be choosing a plan that will reduce the cost of living so that every citizen can afford a decent meal, house and can be able to send their children to school," he said.
Gachagua appealed to voters to turn out and vote. "Even if you love William Ruto and desire change, without voting you will not have done anything to help yourself," he said.