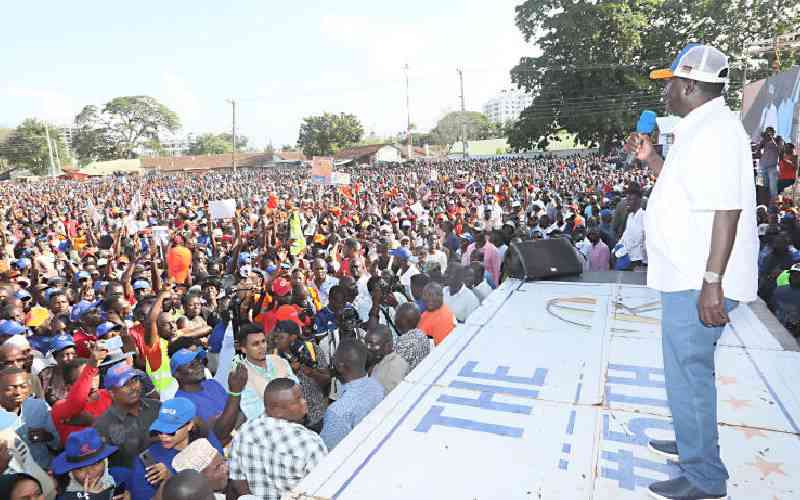 Azimio la Umoja One Kenya coalition yesterday concluded its campaigns at the Coast casting next Tuesday's General Election as a decisive moment in the country's future.
The coalition's presidential candidate Raila Odinga said after a three-month grueling campaign he was ready to face Deputy President William Ruto of the United Democratic Alliance (UDA). Raila said he traversed all parts of the country and was sure of a win against the DP who he described as a "disrespectful young man" whom he claims has abused him for years.
"After the campaign that has taken me to all parts of the country, I'm now ready to stand up and wrestle Ruto. On Tuesday I will grab his hand and beat him decisively," said Raila.
He said the DP and his running mate Rigathe Gachagua have ridiculed, despised, and abused him and that it was time his supporters came out in large numbers to teach them a lesson.
"I want you to give me the authority on Tuesday to start the war against corruption which has dogged the country for many years," said Raila.
Azimio running mate Martha Karua said next week's elections will determine the direction the country will take. She asked Coast voters to come out in large numbers to vote for Azimio.
"We have a decision to make on Tuesday. Do we vote in a team that will end endemic corruption, and create opportunities for all or a team backed by a corruption cartel?" asked Ms Karua.
She said that Coast had supported Raila for the last 15 years and asked the region not to abandon the ODM leader at a time he was about to win the presidency.
The Azimio team held rallies in Lamu, Kilifi and Mombasa counties. These were the final rallies at the Coast ahead of the election. Today, the Azimio team will hold the final rally at Kasarani Stadium.
"That young man has made it the habit of abusing, ridiculing me but as a mature leader, I chose not to respond. I know voters will teach him a lesson," said Raila.
He said the Azimio government will end corruption, ignorance, and hunger and better the healthcare system to compact emerging diseases in the country. He said Azimio brigade had put everything in place to show Ruto how a country should be run as opposed to the style of leadership that involved corrupt individuals. Raila was accompanied by local ODM aspirants, Mombasa Governor Hassan Joho, Kilifi governor aspirant Gideon Mungaro, and Mvita MP Abdulswamad Nassir.
In his final rally, Raila kicked a storm after he demanded a six-piece vote for ODM at the Coast saying he needs more MPs to push his legislative agenda in parliament. A section of aspirants from the other parties in the Azimio Coalition walked out of the rally.
"Let them go. I will not like a situation where I'm a president without MPs. I will be vulnerable to threats and intimidation and that is why I want a strong team that will defend me," said Raila.
Ms Karua denounced Ruto's style of leadership and asked the people in the Coast to reject the Deputy President because to his integrity. She described Ruto as a leader who hates others and can escalate tribalism, which was not good for the country.
Ms Karua claimed Ruto cannot be trusted with power in the country as he was a vengeful leader who despise his senior and wondered what will happen if he is given power. He warned Kenyans against electing Ruto as he was also a quarrelsome leader who was not ripe to lead the country.
Karua regretted that Kenya was on the verge of being consumed by corrupt leaders who had ganged up together to take the leadership of this country.
"Do not vote for the cartel in our rival camp who have ganged up to take over the leadership and are busy giving you empty promises they cannot fulfill. Give Raila your votes on Tuesday to bring economic revolution," said Karua.