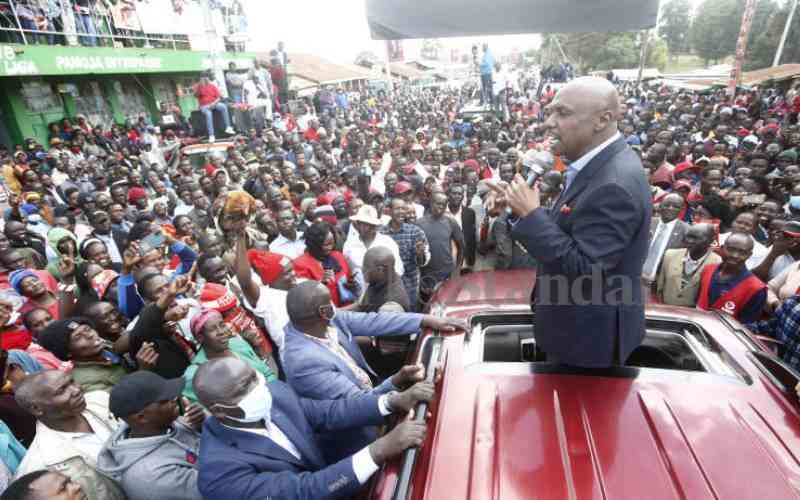 Kanu Chairman and Baringo Senator Gideon Moi has said his decision to back Azimio was for the greater good of the people of Rift Valley.
Speaking in Kabartonjo town after attending a service at the AIC Church, Gideon, who is seeking a third term as the Baringo senator, described his political stand as strategic and meant to ensure that residents are part of the next government and not consigned to the opposition.
He challenged residents of Baringo and Rift Valley at large to remain united and shun divisive politics.
"We don't need to be enemies on this earth. There is no need of insulting one another, politics will come and go," he said.
The senator who was accompanied by Baringo Deputy Governor Jacob Chepkwony, Woman Representative Gladwell Cheruiyot, Isaiah Kirukmet among other leaders addressed a rally in the town.
The senator, who was instrumental in the formation of Azimio, said he was there for the Kalenjin community and would ensure that nothing goes wrong under his watch.
"What I'm doing is for the good of all of us. What I don't want is we wake up one time and find ourselves in opposition. I'm here for you and nothing will go wrong in my presence," he added.
The Kanu chairman promised to remain a servant of the people and said his agenda was to ensure that the youth gain meaningful employment and the development of infrastructure.
He pledged to lobby the national government to issue title deeds to residents of Mochongoi in Baringo South constituency.
Mr Chepkwony described the senator as the eyes and the pivot of Baringo people, saying the community must stick together and be wise when making political decisions.
"Gideon you are the one we depend on. Being a servant is not easy, being a steward and a shepherd is not easy, let's pray for our leader. Let's pray that we have a peaceful transition," he said.
The Baringo deputy governor appealed to voters to re-elect Gideon, saying he had demonstrated willingness to serve them.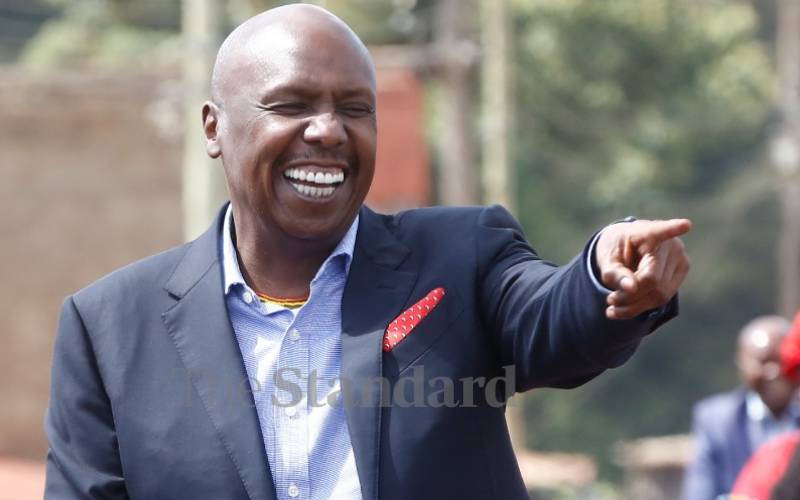 The woman rep asked voters not to let emotions stand in the way when making decisions about their political future
"Let's not use emotions, let's calculate for the sake of the people and our children and look forward. It will be disappointing if we don't have someone strong to protect and speak for us," she said.
Mr Kirukmet, who lost in the UDA Senate nominations to William Cheptumo, has declared his support for Gideon.
He said all leaders who participated in the UDA party primaries were good but the Kanu chairman was a better option for the community.
Rev Sammy Yatich said as a church they have been following keenly the manifestos launched by various leaders and are not pleased with Roots Party presidential candidate George Wakackoyah's announcement that he will legalise bhang.
He said the country is not broke to the extent of legalising the growth of marijuana and rearing snakes.
"Our leaders let us not keep quiet when things are going wrong. We will be held accountable before God. We are not for the growth of bhang. Kenya has not reached that point."
The church appreciated the role Gideon has played in uniting the country.