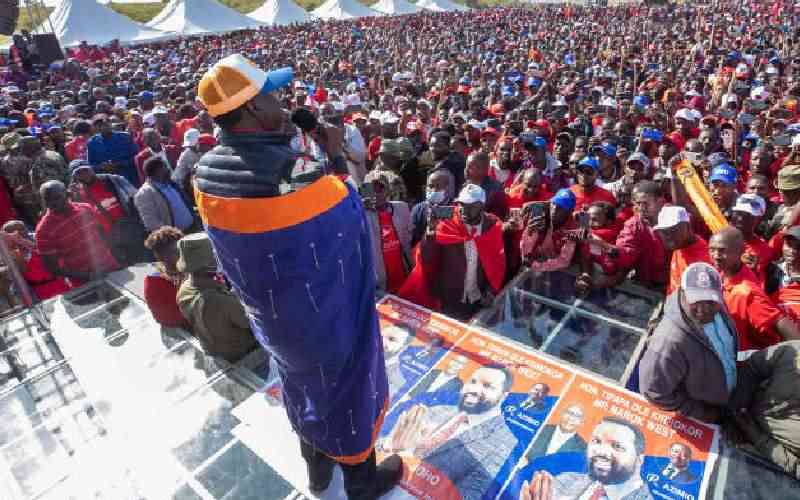 Time is against the zoning plan by Azimio, through which it hopes to field a single candidate in select electoral positions across the country.
That the Independence Electoral and Boundaries Commission (IEBC) is set to gazette candidates tomorrow means that Azimio has roughly 24 hours to convince some of its candidates to withdraw from the elections. Only 40 days are left to the elections.
According to constitutional lawyer Bobby Mkangi, candidates may withdraw up until the election day, but doing so before IEBC gazettes the candidates would prevent 'weak' candidates from ending up on the ballot.
The prospects of that happening are unlikely, given Azimio, Raila Odinga's vehicle in this year's presidential election, is facing resistance from candidates asked to shelve their ambitions.
But, according to Mkangi, individual parties have the option of withdrawing their candidates.
"It is possible depending on the party rules and internal mechanisms," he said.
While the Elections Act forbids parties from changing their candidate after the candidate's name has been received by IEBC, it offers an avenue through which it can happen.
"Provided that in the event of the death, resignation or incapacity of the nominated candidate or of the violation of the electoral code of conduct by the nominated candidate, the political party may after notifying the candidate that the party seeks to substitute, where applicable, substitute its candidate before the date of presentation of nomination papers to the Commission," Section 13 of the Elections Act reads in part.
In some way, this option, too, seems a long shot. And Azimio parties appear not to favour it, instead relying on persuasion.
"It doesn't matter whether or not we can withdraw our candidates. This is a political process and we will only recognise those who have been endorsed," said ODM secretary general Edwin Sifuna.
Mr Sifuna is one of the beneficiaries of the zoning strategy, having earned Azimio's nod to contest for Nairobi senator.
He is part of a team championing zoning in Nairobi county, which yesterday held town hall meetings in Makadara and Kasarani constituencies.
Westlands MP Tim Wanyonyi and Youth and Gender Affairs Chief Administrative Secretary Rachael Shebesh co-chair Mr Odinga's presidential campaign team in Nairobi. The team is charged with, among other things, selling Azimio's Nairobi lineup.
In the capital, the coalition has split parliamentary positions in a 8:8:1 ratio for Jubilee, ODM and Wiper respectively in a deal that saw the governorship reserved for Jubilee.
In a meeting at the City Stadium, yesterday, Azimio leader's said Makadara was an ODM zone, reserved for incumbent MP George Aladwa.
"I want the Jubilee and Wiper candidates prevented from competing in the elections. We have left Jubilee to their zones, they should do the same," Mr Aladwa said, warning that Azimio risks splitting the vote in favour of Kenya Kwanza Alliance.
"We made this mistake in 2013 and the Wiper candidate made away with 8,000 votes," he added.
Mr Sifuna echoed his sentiments, saying that he would not be threatened to avoid the zoning subject.
"We have tried to talk to some of our candidates to step down but they have rejected dialogue. We shall campaign against them," he said. "We lost Lang'ata in 2017 because our partners rejected zoning."
Mr Wanyonyi, who was a victim of zoning, shelving his governorship ambitions for Polycarp Igathe, urged the dropped candidates to abide by the coalition's position.
"I was told about the zoning and I was humble enough to step down," he said.
Ms Shebesh said that Azimio only recognises Mr Aladwa in Makadara.
"You have the president's support," she said.
Former Nairobi County Assembly Speaker Beatrice Elachi, who is seeking the Dagoretti North seat on ODM ticket, said it was Jubilee that sought to have Nairobi zoned.