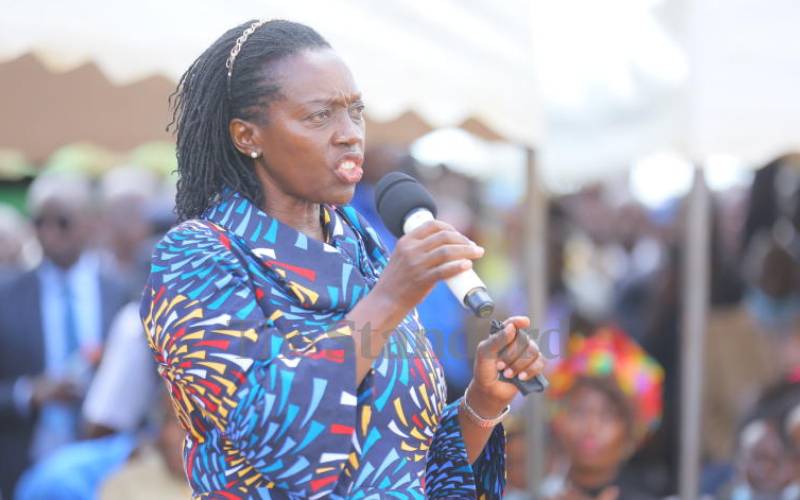 Azimio-One Kenya running mate Martha Karua was back in Tharaka Nithi County yesterday to seek for votes.
Ms Karua, who was accompanied by Narc Kenya candidate for Tharaka Nithi governor seat Mzalendo Kibunjia and Jubilee Senate candidate Paul Mugambi, said Azimio-One Kenya presidential candidate Raila Odinga's development record, and her own, was reason enough for them to be elected.
Ms Karua said she wanted the August election to be a replica of 2002 when Kenyans overwhelmingly voted for former President Mwai Kibaki.
She said Azimio-One Kenya had pledges drawn up by professionals that they would deliver, including providing affordable housing, expanding the economy, and uplifting impoverished families.
"Raila's basket has something for everyone; children, youth, women, people living with disability, and all in the family. All things are possible when we unite as Kenyans," she said.
Ms Karua took a swipe at politicians in the coalition who were campaigning for themselves, saying they should be clear about who they wanted be president.
She also dismissed the perception that the region was not ready to vote for Raila, saying the former premier had worked for the interests of all Kenyans and had performed well when he served as minister.
"He was in Kibaki's government, and it was as Roads minister that a lot of roads were upgraded and new ones built. All that was the work of Engineer Raila Odinga. He works hard," she said.
Ms Karua said it was time for people to "repay Raila who had put the interest of Kenyans ahead of his own when Kenya degenerated into post-election chaos".
She said Raila wanted the unite the country and sacrificed his ambition because of his love for Kenyans, after disputed elections in 2007, and again in 2017 when he contested President Uhuru Kenyatta's win.
"There was the handshake that ensured Kenya was united. He put his interests at the back because he put the interest of the country first. That is the same Raila we have now. Do you want to repay his good deeds with bad deeds?
"People say Raila has never been voted for here. Even in Kisumu they do not vote for Martha but they are voting for her this year!" she said.