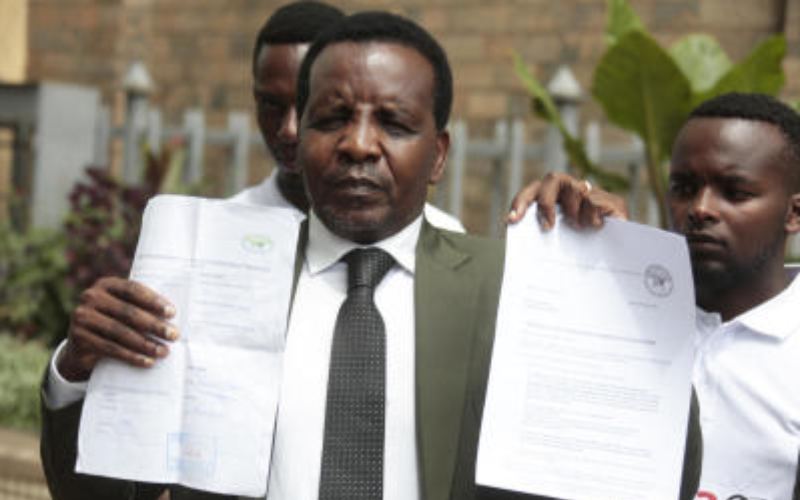 Independent presidential aspirant Reuben Kigame has moved to court seeking orders to bar the Independent Electoral and Boundaries Commission (IEBC) from processing the papers of other presidential candidates.
He wants the process, whose deadline was Monday, June 6, halted until his petition is heard and determined.
This comes days after he was struck off the presidential race for failing to comply with the electoral body's set requirements.
Court documents show that the gospel artist wants an order issued by the courts, compelling the IEBC to accept the documents he has submitted pending the hearing and determination of his Application.
"A conservatory order issued barring the 1st & 2nd Respondent (IEBC and Wafula Chebukati) from processing the papers for the other Presidential candidates for the upcoming General Election on 9th August 2022 pending the hearing and determination of the Application," petition filed by his lawyer Khaminwa read in part.
Moreover, the evangelist says his constitutional rights were violated by the Chebukati-led commission despite being a person living with a disability.
He argues that the IEBC put in place administrative arrangements for the conduct of elections that are designed to deny him the right to run for office.
He says that as a person living with a disability, he has been treated in a demeaning manner.
"IEBC has not, in any way, extended means to integrate the Petitioner as a presidential aspirant, and the Petitioner has been subjected to a vigorous process without due regard to his inability to see and read. The 1st Respondent has not developed any regulations to accommodate the persons living with a disability such as Braille or any other form of communication," Kigame's petition read in part.
Additionally, Kigame has alleged that IEBC failed to grant him access to materials and devices to overcome constraints arising from his disability as required by the Constitution.
Kigame was locked out of the race by the IEBC after he presented his papers to the IEBC for approval.
In a press conference, he said he was told by IEBC Chair Wafula Chebukati that he had failed to meet the requirements for presidential candidates.
"One of the officials asked me to wait for the chairman in the lobby but was later told he left. Strangely, someone from the commission asked me for my email and I gave it to them. I did not know what was coming," Kigame said.