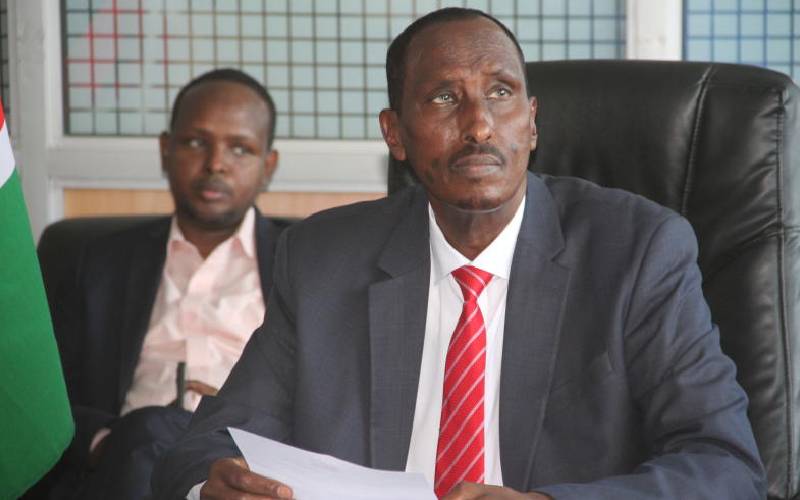 Wajir Governor Mohamed Abdi Mohamud will defend his seat as an independent candidate after Jubilee Party gave the ticket to his rival Dr Mohamed Hassan Adam.
Mr Mohamud on Wednesday claimed that the method used by the party to pick candidates for the August 9 General Election was deeply flawed.
"It is not a party that elects a leader, it is the people. And the people of Wajir have seen what has happened," the governor said.
He said the people of Wajir would have the final say on whether he would be governor or not.
"There was no fairness in the process. If the process was fair then we would have been asked to go before the voters of Wajir and have them decide who they want to be on the ballot," the governor said during a press conference at Concord Hotel.
"There was no nomination. It was just people who were selecting their brothers and friends," he added.
Jubilee Party left it to the last day to decide who would be its flagbearers in key counties, among them Wajir.
The party relied on consensus and direct tickets to pick candidates after abandoning earlier plans for universal suffrage.
But the process has come under criticism, especially from incumbent governors, some of whom expected to get the party ticket to defend their seats but are instead waiting for Jubilee honchos to decide their fate.
Mr Mohamud said the issuance of the Jubilee ticket to another contestant without having the courtesy to inform him was an injustice.
He maintained that even though he was not the choice of the party, he was still the choice of the people of Wajir and he would present himself before them again.
"If Jubilee has not recognized that they have denied the ticket to the strongest candidate then it is their loss. I am saying farewell to Jubilee. I will go to the people of Wajir as an independent," he said.