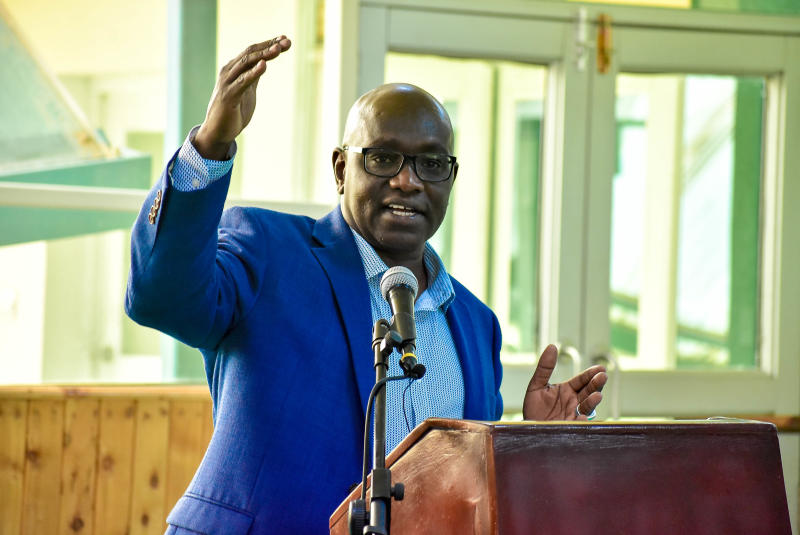 Thirdway Alliance has nominated Dr Ekuru Aukot as its presidential candidate in the August 9 General Election.
Speaking in Nairobi yesterday, Dr Aukot said time had come for Kenyans to get "an honest and authentic alternative to what has been described as a two-horse race".
While calling on Kenyans to vote for new faces, the Thirdway Alliance leader hit out at former and current government officials who are seeking elective posts. He urged voters to interrogate their election promises and unfulfilled pledges.
"Coalitions in Kenya, especially those populist ones, when deconstructed are actually about individuals who have been in government, who cannot account for their being in office and who have been part and parcel of theft of public resources," he said.
Dr Aukot is making a second stab at the presidency and will face off with ODM leader Raila Odinga and Deputy President William Ruto.
He announced plans to partner with other presidential candidates, such as musician Reuben Kigame, to form a coalition that will offer Kenyans fresh options in leadership.
"We have come here to work together and not scatter these votes. It doesn't matter who will be on the ballot, what matters is the quality of the citizens' lives," said Mr Kigame, who attended the event.
Thirdway Alliance is rallying the electorate on the economy's revitalisation agenda, even as the cost of living continues to rise against the backdrop of failing businesses and dwindling income.
Dr Aukot blamed President Uhuru Kenyatta for the economic slump, saying the Head of State lacks the moral authority to choose his successor.
"My challenge to Kenyans is that they must get a better choice this time. Don't say we didn't tell you," he said.
Dr Aukot said Thirdway Alliance will continue championing real issues, including citizen's rights. He said Thirdway Alliance will filed candidates for all elective positions.