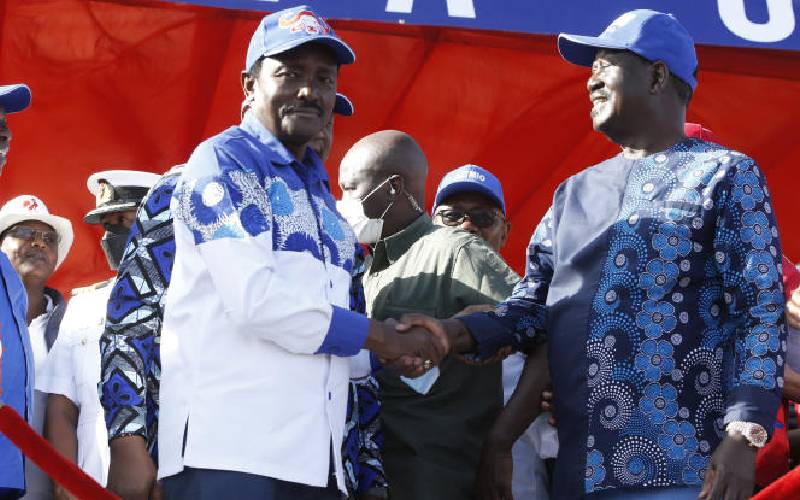 Wiper Democratic Movement leader Kalonzo Musyoka has expressed fears ODM leader Raila Odinga could turn his back on the coalition agreement struck between him, President Uhuru Kenyatta and Raila.
In a radio interview, Kalonzo told Musyi FMn that what played out between President Felix Tshisekedi of Congo DRC and former President Joseph Kabila, could play out in Kenya once Raila clinches power in August.
He said he had picked a lot of lessons from his role as mediator in African politics, and would least be surprised if Raila played them. He said he knows the effect of a man who receives "instruments of power."
"I have seen a lot in Africa… I went to unite Tshesekedi and Kabila, and they had a coalition, like this one of us Azimio. They told us long stories, Tshesekedi said Kabila's father exiled his father, who ended up dying in Brussels. They both said they wanted to bury that history. We believed them and signed up as witnesses to their deal, does that sound familiar in Kenya?" he posed.
He said Tshesekedi only wanted Kabila's support to stabilize his government. He said people change colors once in power.
"Once someone is handed the symbolic blade of power and enthroned the 5th President, if it is not Kalonzo wa Musyoka who fears God, they could change, so that people like Uhuru may even require one month appointment to see them," he said.
He said the agreement between them and Raila is crystal clear, but he is not lost to ways of power. He said Raila had agreed to revisit Building Bridges Initiative (BBI), to expand the political space. If he were to turn his back on this, Kenyans would not take him seriously.
Kalonzo said once in power, Raila must learn to respect the "three-legged stool" arrangement once in power. He distanced himself from earlier reports he would lead the impeachment of Raila if he betrayed them, but said things may not be calm.
"If he rejects the three-legged stool, what would you do with such person?" he posed.
At the same interview, Kalonzo gave snippets of what he described as "deep understanding" between himself, Rail and Uhuru which may have been signed between them at State House, ahead of the "plenary" signing ceremony at KICC last Saturday.
He said he was not bought off, and that he knows what he signed to, as a person. He also insisted he was double sure the Secretary Generals of the various parties who appended their signatures at KICC do not know what they had signed.
He revealed how both Raila and President Kenyatta kept him waiting at State House from 7:30am to 1pm, before KANU Chairman Gideon Moi joined him. The pair later strolled accompanied by Kitui Governor Charity Ngilu.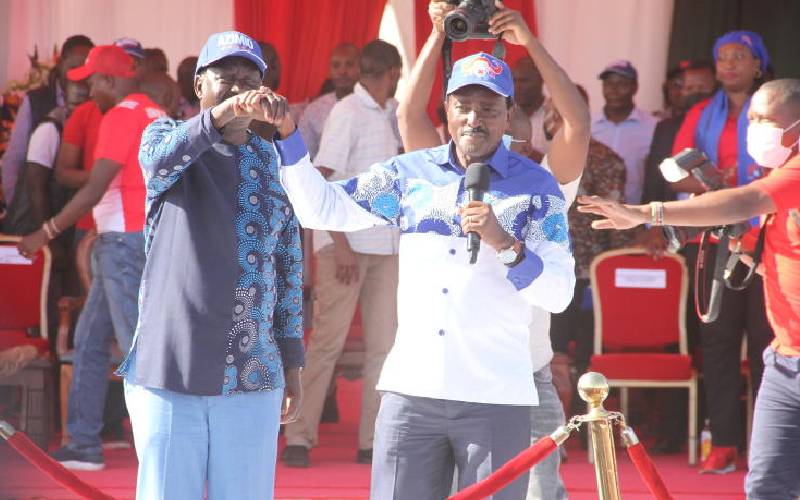 "There is a very deep understanding between three people, Raila, Uhuru and myself. It was a structured dialogue, we had drafters. They were bringing in documents and we would check and so on. Personally, I know what I signed.
"But because of time, our SG's did not have time to read, that's why some are talking about Azimio La Umoja. As for me, I cannot sign something I have not read. I am a Senior Counsel," he said.
Asked directly whether he struck a deputy President bargain, Kalonzo said it was a matter of time:
"Those are deep secrets. People will see as we go…. When all is settled and the political arithmetic is finally done, I will emerge somewhere where the people of Kenya will be able to say I will be the next president."
He revealed the nitty-gritty of the power-sharing at the mid-level, Cabinet Secretaries, Principal Secretaries etc, is not fully settled, expressed confidence that his experience will bail him out.
"I am a professional negotiator… nothing is agreed until it is agreed."
He dismissed as baseless rumors that he was bought off for Sh3 billion: "Those who know me know integrity is an integral part of me. Since I was born I have never seen Sh1 billion. And why would one keep Sh1 billion? I can never auction my community. I'd rather die."
He said from his resolve, the 2022 presidential election will be voted together with 2027. Drawing lessons from DP William Ruto's fervent campaigning, he is not going to slow down after Raila triumphs.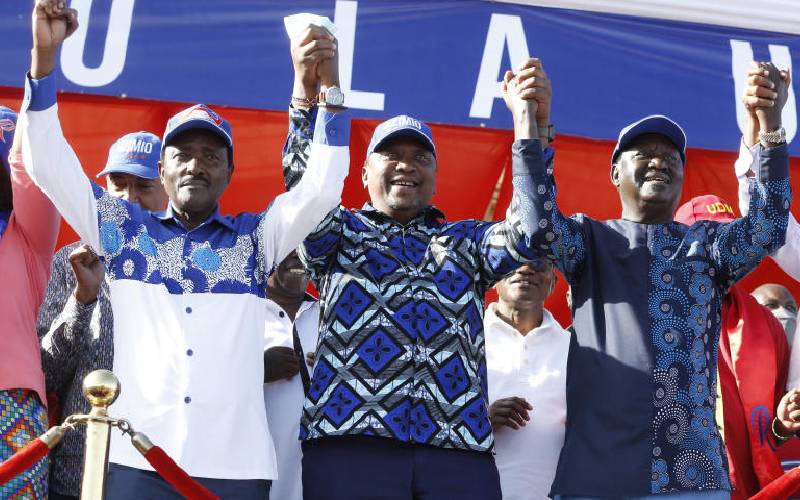 Kalonzo admitted the pact between himself and Raila had begun on a sour note but hoped all would be well. He said he was surprised to see the decors at Saturday's KICC event reading "Azimio La Umoja" yet they had come to sign up to "Azimio- One Kenya".
He questioned the legality of West Pokot Governor John Lonyangapuo and Mombasa woman representative Mishi Mboko proposing and seconding Raila as "Azimio La Umoja" presidential candidate when there was nothing like that.
"If someone wanted to go to court, they could easily say this is a nullity….I was holding my hands, thinking as senior counsel, and asking myself… these proceedings cannot be correct. Raila should be declared a candidate of Azimio- One Kenya, but here he was, being declared candidate of Azimio La Umoja."
He brushed off claims that a coalition party cannot form a coalition with another coalition, saying the registrar of political parties is no more senior lawyer than him.
"The fact of the matter is that Azimio is a political party, a legal personality of its own. Nothing stops it from having a coalition with a legal entity, but we are not there yet…. We can even register it as a cooperation."
Speaking to the forced reunion between him and the three Ukambani governors- Kivutha Kibwana (Makueni), Alfred Mutua (Machakos) and Charity Ngilu (Kitui)- Kalonzo asked the governors to forget the past, respect the reality of things, and work with him to support Raila.
"The flock knows their shepherd, but let's look ahead. I am a complete orphan, but God is usually with me. And since I am fighting for my people, if you fight me, God will deal with you."
He complained of media's preoccupation with the three governors saying he's going to bury that discussion once and for all in August. He asked the region to fully rally behind him.
In the interview, Kalonzo his troops, including Makueni Senator Mutula Kilonzo Junior and his Kitui counterpart Enock Wambua was cautious about the deal. He said he was least worried about Ngilu's perceived closeness to Raila.
"With all due respect, I can't choose friends for him, its not my business. I can't spend a lot of time discussing my sister."