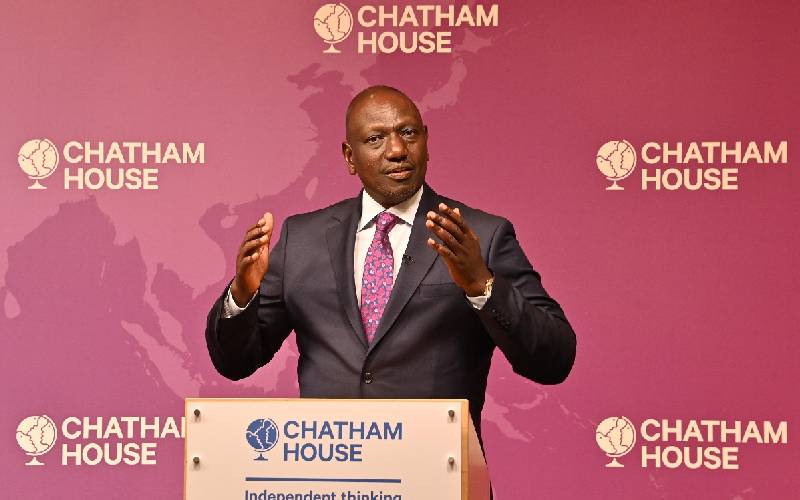 Deputy President William Ruto has uncharacteristically ripped into his boss and one-time ally, President Uhuru Kenyatta and finally lifted the lid on their bitter UhuruRuto fallout.
Speaking at Chatham House in the United Kingdom, DP Ruto said President Uhuru is a squatter in the opposition party, running an administration that is a 'mongrel of a government system'.
"Today the leader of the opposition is a project of the system and the deep state of government. The leader of what is supposed to be the ruling party is a squatter in the opposition party and because of that we believe must build our politics behind institutions and not individuals," said Ruto during his opening remarks at the Royal Institute of International Affairs.
According to the DP, the process towards the formulation and issuance of Executive Order No.1 of 2020 that massively affected the operation of his office, was set in motion after they were sworn- n following their highly contested victory over the National Super Alliance (NASA) – then led by Uhuru's 'handshake' partner, ODM leader Raila Odinga.
DP Ruto said President Uhuru told him, in no uncertain terms, that their "shared aspect" of the presidency, UhuRuto, was over.
The DP said the president explained that the second term was about him – the president and his singular legacy – and not about their 2013 candidature that triumphed in the succession struggle following the retirement of President Mwai Kibaki.
"On our second term, because of the political dynamics that came to play, President Uhuru told me he wanted to do things differently; that he did not want what had become normal, 'UhuRuto'. He wanted a 'Uhuru'. He wanted his legacy, alone, as the 4th president of the Republic of Kenya," said DP Ruto.
Adding: "He decided that whatever I did in the first term to coordinate government programmes and work on assignments to consolidate our plan, was to be carried out by somebody else. I did not complain. I had no quarrel with him because that is how he wanted to deliver on his second term. So, Executive Order No. 1 came into force establishing a different arrangement in government."
He, however, argued that the persons tasked by Uhuru to fulfil the re-assigned responsibilities, following the re-organization of government, failed the head of state and ran aground Jubilee government's agenda.
"The whole Big 4 plan fell apart. The housing and Universal Health Coverage (UHC) plan never took off, the whole space on agricultural transformation faltered, and BBI went up in smoke. The responsibility of the Office of the President, has never been shared between Uhuru Kenyatta and me," said Ruto.
"On our first term, we ran a coalition government, but I can tell you there was no single opportunity where my party held a PAG outside of Uhuru's. We had one parliamentary group, one programmed and one government, and it was Ok. There were no dockets that were given to me; I did not appoint any minister – everybody was appointed by the President," he noted.
The second-in-command and presumptive UDA presidential flagbearer noted that they lived up to their pre-election promises despite their second term fallout and blamed the failure on the imbalances created following the 2018 handshake.
He affirmed that he did not fail in his constitutional mandate.
"The president assigned me many responsibilities which I discharged with distinction par excellence. I was part and parcel of the entire SGR delivery plan. We set out to build 10,000km of tarmac, by June this year we will have actually done 11,000km. I sat long hours with officials in government to design how that was going to happen, the same case to other programmes that we delivered on our first term. And to demonstrate our success, we were elected for a second term with twice the 2013 margin," said Ruto.