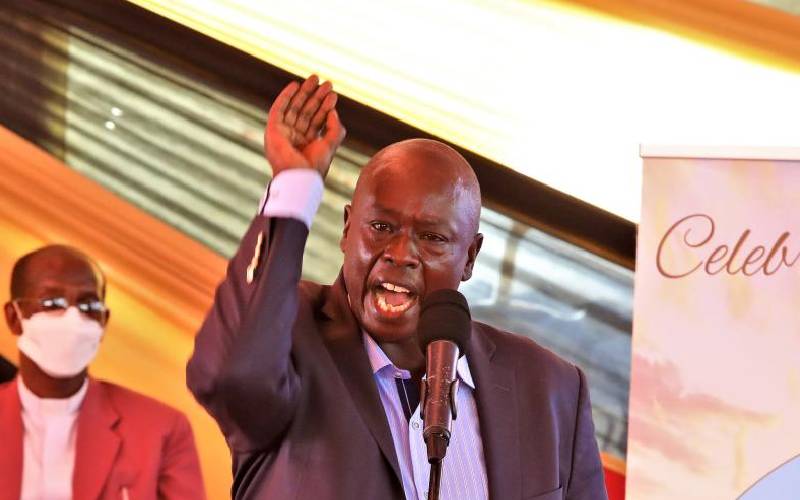 Mathira MP Rigathi Gachagua on Monday lifted the lid on the bitter fallout behind President Uhuru Kenyatta and his deputy William Ruto.
Gachagua on Monday revealed that the frosty relationship between the two leaders began immediately after the 2017 elections.
The MP says the president 'used' Ruto to retain the presidency for a second term and thereafter turned on him.
"He [Uhuru] waited until Ruto helped him ascend to the presidency. Once in power, he fought him very hard," the MP said during an interview on Citizen TV.
Gachagua said Uhuru showed signs of hostility during the first meeting at State House immediately after being sworn in for a second term in office.
"He really abused us and told us off. In fact, he started to abuse us before the first election was cancelled. He called us on August 30, 2017, and gave us a serious tongue-lashing and told Ruto off two days after the election was cancelled," he said.
The final fallout between Uhuru and his deputy was witnessed last Saturday after he formally endorsed ODM leader Raila Odinga as his successor before thousands of the Orange Party delegates at Kasarani.
The endorsement was a culmination of a four-year bromance between Uhuru and Raila that started in March 2018 after their famous 'handshake'.
Before the Kasarani fete, Uhuru oversaw the Jubilee National Delegates Convention at KICC where Ruto and his allies were officially kicked out from the party and new officials elected for a five-year term.
Uhuru was unanimously endorsed to continue as party leader, effectively putting him at the helm of Jubilee and maintaining his stay in national politics past his retirement as President in August.
At the meeting, the president used the podium to criticise his deputy, saying he [Ruto] was to blame for his own misfortunes.
"I did not kick anyone out of Jubilee. They left by themselves," Uhuru stated.
Uhuru said he decided to work with the former Premier due to his deputy's actions.
"If we were elected together, but you've decided to join the opposition from within the government…that's why I decided to work with Raila Odinga," he said.
But Gachagua said he was surprised to hear Uhuru deny that he had chased Ruto and his allies away.
The Mathira MP said they were chased from Jubilee years ago when the President led a purge of pro-Ruto allies from key parliamentary committees both in the National Assembly and Senate.
"The President literally fought everyone who helped him come to office and embraced those who used to abuse him. He chased all of us away and stripped the deputy of his powers," he said.
Gachagua added that every time Uhuru called for a Jubilee Parliamentary Group meeting, they were at the receiving end of lectures and insults by him.
It is after that humiliation that led them to look for a new home under UDA, Gachagua said.
Gachagua concluded that Ruto was at first very reluctant to leave Jubilee as he had invested heavily both emotionally and resources in the party but was later persuaded to shift to UDA.