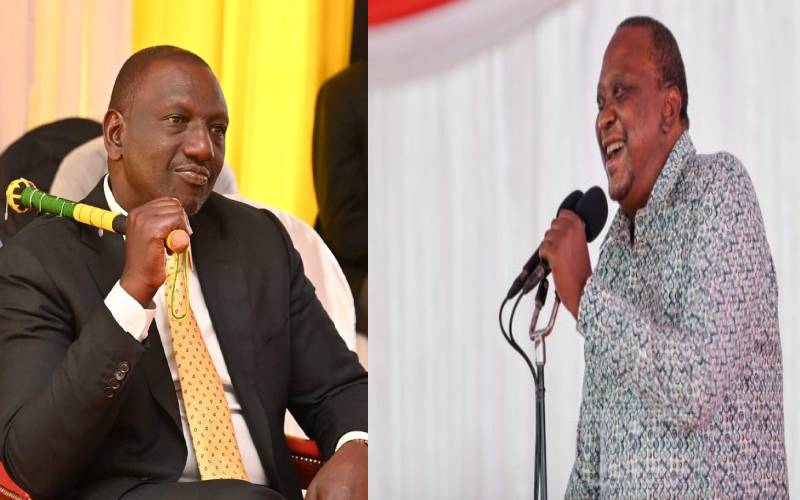 President Uhuru Kenyatta has defended Jubilee after the delegates kicked William Ruto out of the ruling party.
Ruto, who was the Jubilee deputy party leader, was kicked out during the National Delegates Convention, held on Saturday, February 26.
Jimmy Angwenyi is the new party leader.
The delegates also extended Uhuru's term as party leader for a further five years.
The president used the podium to criticise his deputy, telling him (Ruto) to blame himself for his misfortunes.
"I did not kick anyone out of Jubilee. They left by themselves," said Uhuru who continued on onslaught on his deputy.
Uhuru said that DP Ruto made a hell of his second term, leaving him with no option but to seek help from outside.
"If we were elected together, but you've decided to join the opposition from within the government…that's why I decided to work with Raila Odinga)."
Uhuru also defended the government relationship with the opposition adding that Kenya's democratic space had expanded.
"We are mature enough to distinguish the needs of our people."
"Some people are now lying that the Hand Shake derailed government agenda.
"We shook hands with Raila for the sake of unity in this country and he didn't ask for anything in return.
"What did you expect me to do when some of us with whom we once worked together in the same party, but have now kicked themselves out, are turning around to blame the very government that they formed?
"We never kicked anyone out of Jubilee. Let them blame themselves."
The Jubilee NDC was also attended by Orange Democratic Movement (ODM) party leader Raila Odinga, Kalonzoa Musyoka (WIPER), KANU chairman Gideon Moi among others.