It is decision time: We must be ready to live with consequences of our good, bad choices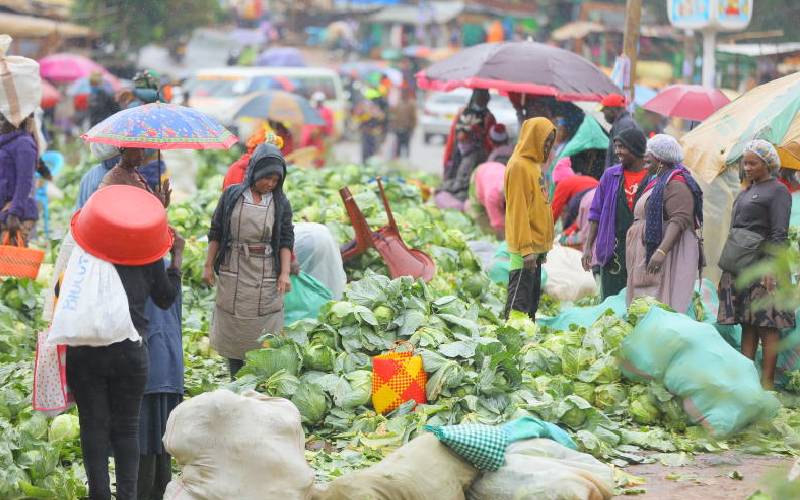 Two of the leading presidential candidates currently have been trading barbs on the campaign trail about who did or did not do what while holding senior strategic positions in Government. On other times, they have tried to take credit for this or that project. Yet in other instances, they have run away from corruption riddled or failed projects when it is politically convenient.
From the devolved units, retiring county bosses are all trying to hang on to anything that promises new positions at the national level. Others are ogling for 'junior' electoral positions just to remain politically relevant or close to the feeding trough.
Sometimes I am tempted to think we could easily pass as the most peculiar human species under the sun. Whether it is those in positions of authority/leadership or their supporters, we could make an interesting case study of how not to behave in a society.
Before the stones start flying my way, let us consider these questions: One, how can somebody claim to be a visionary messiah after three or four decades in power yet struggle to demonstrate tangible deliverables to his subjects? It doesn't help that those proclamations are made on top of state –of-the art machines financed and maintained fully by the very same subjects.
Two, how can men and women who have wielded so much executive authority and presided over billions of shillings at the devolved units with nothing much to show now want a senior position at the national level?
Evidence
Three, how can the electorates, with fairly good education and fully aware of these failures fail to ask the hard questions and/or demand full accountability before renewing their mandate? Or could it be that our national literacy data and evidence is misleading?
Four, does it genuinely mean that as a society, we are individually and collectively unable to relate the exercise of our sovereign power at the ballot with our own socio-economic welfare? And if this were to be true, why do we invest so much in education at both household and government level if we cannot make such a basic, simple and logical relationship?
It would appear winning a sitting or former governor into your camp is a golden price for the presidential candidates. In truth, these men and women wield or wielded not only immense power but also presided over a lot of public resources. On several previous articles here I have demonstrated with hard facts the missed opportunities in our devolution experiment due to poor choices of county bosses by the electorates. Today, I only make reference to a few indicators from the 2020/21 Consolidated County report from the Controller of Budget (CoB).
On election night on Tuesday, August 9, 2022, at least over 3.5 trillion shillings would have passed through the hands of about 78 men and women who have held that position so far. These include 47 currently in office, 24 voted out in 2017 and 7 either impeached or deceased. That is equivalent to the annual national budget of devolved funds to the counties. By design, the drafters of the Constitution that established the devolved units envisioned these funds should support rural development to empower local communities and households.
In the enabling legislation, the County Government's Act enshrined the mechanisms to exercise executive authority, implementation of a clear performance framework and accountability structures. The outcomes thus would be stimulation of the local economies, balanced development, engagement of local communities in their own development and inclusivity. A valid question then would be: Can we honestly say individually and collectively the counties are on a path to realising these objectives 10 years later? Are there any persuasive indicators?
A primary indicator of improvements at the local economic activities within the counties would be the growth in their county own revenues. As at June 2021, the counties collected only shillings 34.44 billion compared to 26.3 billion collected in 2013/14 at the inception of devolution. This cannot be blamed on Covid impacts because at the national level, there was actually a slight improvement in total ordinary revenues. In any case, the highest the counties have ever collected was shillings 40.3 billion in the 2018/19 fiscal year.
The economic meaning is that there has been minimal change in the local economic structures at the devolved units despite the huge sums pumped there. This could be explained by the relatively small development expenditure and absorption rates compared to the recurrent spending. According to this report, 44.2 per cent (Sh176.03 billion) was spent on personnel emoluments. A further 26.6 per cent (Sh105.92) was used on operations and maintenance and only 29.2 per cent (Sh116.07 billion) went to development.
If we are to factor the rampant official corruption, prevalent mostly within developmental projects and difficult to capture in this report, then the actual development spending will be much smaller. More troubling, the pending bills shot up again to Sh96 billion despite an existing executive order to clear them within the COVID-19 stimulus package. In layman's language, pending bills simply mean suffering small businesses out there due to non-payment of their supplies. Many have been auctioned on account of county tenders!
The CoB's list of challenges within the devolved units has remained the same since 2013. These include high expenditures on personnel, the underperformance of Own-Source-Revenues, low expenditure on development, weak budget controls, high spending on local travels and pending bills. In sum total, this implies either lack of goodwill to improve local governance systems or simply sustained gross incompetence/calculated failures to allow diversion of public funds for private profits.
Reject failed leadership
As postulated here before, there is no single country, county or organisation that can outgrow the vision of its leaders. In addition, transformational leaders require no lengthened stay in power or access to massive state or corporate resources to make impact. They simply utilize their chances fully, do their stuff and move on to other things. Political giants like Abraham Lincoln, John F. Kennedy and Nelson Mandela led from the front for how long? Yet, their spell inspires the world to this day.
I want to be optimistic, but now am old enough to understand anybody who imagines 2022 would usher in a new dawn of economic and political leadership at the national level is in wonderland. Not with the leading luminaries thus far. Probably, if folks could defy the political waves at the devolved units we could get a ray of hope at the gubernatorial races. In 2017, in a majority of the counties, the electorates used a big broom to sweep the county Assemblies. This trend has been replicated somewhat with the Members of Parliament and Governors where almost half of them went home.
The brutal reality is that anyone who is holding a position of leadership now and has nothing to show for it, even if we retained them for the next three decades, chances are they'll still deliver nothing. For instance, in my home county, the county boss is a two term Governor yet all the devolved services are in a sorry state. In healthcare, even the level 5 facility has had no gloves for almost five months and Community Health Volunteers have over 36 months arrears of their negligible monthly allowance of Ksh. 2,500.
ECDE teachers have suffered from all manner of mistreatments, agricultural support is non-existent, sports and youth only exist for political expediency and clean and safe water in majority of places are works of fiction. Yet, I know that this sorry state in my backyard is a replica in many a counties. One wonders what justification there can be for a presidential candidate to salivate at elevating such leaders to national positions.