Boost for Abdul Haji as clan elders back him to retain Garissa senate seat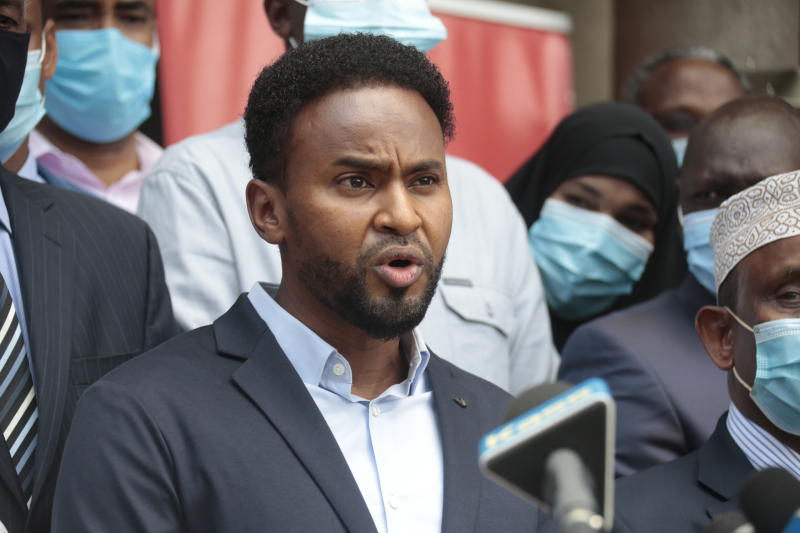 Garissa Senator Abdul Haji (pictured) has received blessings from clan elders to defend his seat in the August 9 General Election.
The Samawathal clan elders said Haji will be the sole candidate for the community and promised to seek support of other clans to secure the seat. The senator was elected unopposed in April last year following the death of his father Senator Mohamed Yussuf Haji.
Haji, while acknowledging the endorsement said various clans are in talks with the community for possible partnership to form a political coalition.
"Our unity is our strength, it's our unity and resolve that various candidates are now seeking our attention, we will have a sit down and see possible partners," he told residents at Masalani Baraza park.
Haji, who is the younger brother to Director of Public Prosecution Noordin Haji, is trying to fit in his late father's huge political shoes as he positions himself to be the community's point man.
Speaking during a function in Ijara Constituency, the senator vowed to unite the community and lobby for a strong coalition that will have a positive impact on the county. He used the opportunity to popularise the Upya movement, saying it has brought pastoral counties under one umbrella for their own benefit.
The movement, he said cannot afford to be outside the Government and vowed to mobilise pastoral communities to vote for a candidate who has their interests at heart.
Haji noted that the parties bill favours pastoralists counties as they may have smaller parties that will have binding agreements with bigger political parties that cannot be broken later.
Stage set for Handball Super Cup
Handball Super cup battle lines drawn with ten teams are lined up for the Kenya Handball Federation (KHF) Super Cup set for 5th to 19 March 2022.