Raila has confused Kalonzo- Ruto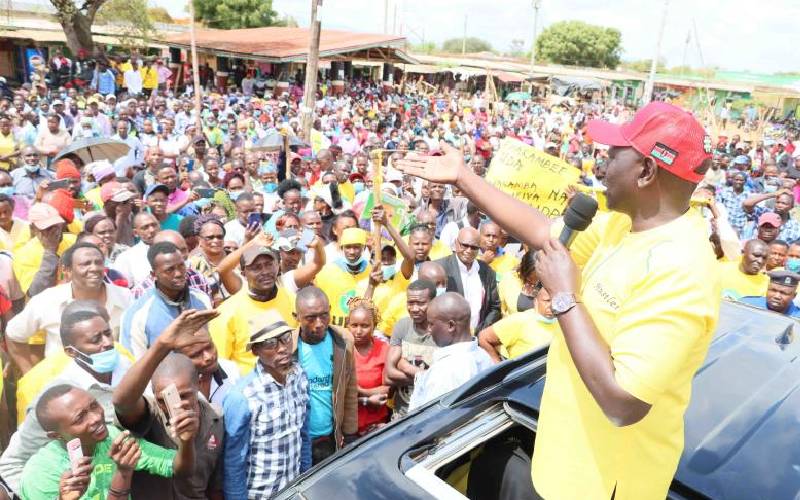 Deputy President William Ruto yesterday continued to make inroads in Makueni County to popularise his bottom-up economic model among residents of small trading centres.
Dr Ruto started his rallies at Matiliku market in Nzaui Sub-county, before proceeding to Kathonzweni, Mavindini, Wote town, Mbumbuni, Kalawa and ending his tour at Kikima in Mbooni Constituency.
At Matiliku, the DP chided leaders meeting in hotels. "We want to ensure food is available in markets, we increase agricultural productivity and this agenda resonates with the people. As we are doing this, there are those meeting in big hotels on the pretext that they are geared towards forming the next government. Governments for the people can't be formed after discussions in hotels without involving these people," said Ruto.
He said on forming the next government, his administration would improve development strategies to raise the common man's living standards.
"We have plans to set aside Sh50 billion for unemployed youth, women, among other hustlers, to raise them up as a matter of priority," the DP said.
He criticised ODM leader Raila Odinga for joining the Jubilee government through the Handshake deal, only to cause rift and confusion within the ruling party and derail the delivery of its agenda.
"In 2017 I was slow in reaching out to the people of Ukambani and you ended up in confusion. This time round I have come early to woo you against that man of proverbs, who has wasted your son's time until he is exhausted. He joined the government and we ended up not delivering what we had planned in the Big Four agenda. In the Big Four programme, we had plans for a medical scheme for everybody, but that has now stopped due to that man," Ruto said of Raila.
He blamed the ODM leader for Wiper leader Kalonzo Musyoka's "continued political confusion" that saw him play second fiddle in the past two elections. Ruto painted a picture of Raila as one who only tires people but does not win elections. "We must agree as one so that we can form the next government. I was with this man and I made him a prime minister, but I realised he is no good man. A man who doesn't even go to church, can't give tithe. I dumped him and I left him for Kalonzo. Kalonzo has pushed him until he (Kalonzo) is ageing."
Ruto was accompanied by Nimrod Mbai (MP Kitui East), Emmanuel Mutisya, a Makueni County governorship aspirant and several other leaders.
Prof Mutisya said as a community they were tired of political deceit and that they had drafted the region's economic blueprint that highlights development for Makueni.
"We are changing this conversation from empty rhetoric. Our people have prioritised water issue, good roads with Emali-Matiliku-Wote road being a priority, electricity connectivity among other agendas," the gubernatorial hopeful said.
Mr Mbai castigated Raila for using the Kamba community and dumping them at the hour of need.