Duale: Uhuru's sudden appearance during my TV interview didn't scare me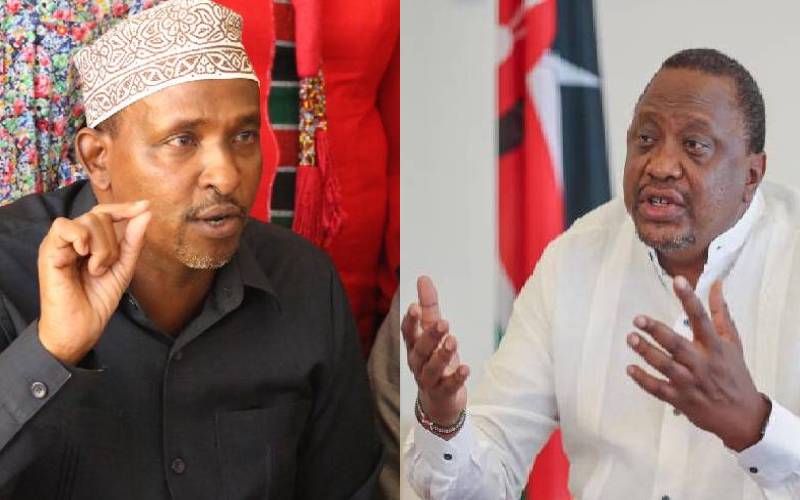 Garissa Township Member of Parliament Aden Duale says President Uhuru Kenyatta's sudden appearance during his TV interview on Tuesday, November 30, did not throw him off balance.
Duale was speaking on NTV after the president had addressed both houses of Parliament in his annual State of the Nation speech.
The lawmaker was in the process of highlighting the gaps in the Head of State's speech, when Uhuru walked past him, startling the MP in the process.
For a few seconds, Duale looked to the president's direction and stammered on one word in a manner suggesting the sudden happenings had caught him by surprise.
Duale was calling out the Head of State for faulting the Judiciary after the BBI constitutional push was rejected by the courts.
"For the first time, he (Uhuru) came [to Parliament] at 3:45pm, contrary to the 2:30pm timeline set for the Legislature," said the Garissa Township MP.
"Besides abusing the Legislature, he went further and attacked the Judiciary, and particularly judges, who participated in the [BBI appeal] judgement. Some of them… (the president walks past Duale; he looks to his right side and sees him. He stops speaking). Some of them (judges)… (stammers)… Some of them… Some of them… Some of them who were at the gallery, you know… Some of them who were at the…. (reporter chimes in, and completes the MP's sentence by saying 'at the gallery' after noticing Duale had been taken off balance."
When the video clip was shared on social media, online users joked that Duale, a firebrand politician known to speak his mind, had, surprisingly, exhibited signs of "cowardice".
The vocal MP, however, denies displaying any cowardice, saying he stopped speaking during the president's sudden appearance because the NTV cameraperson panned to Uhuru's direction.
"The cameraperson suddenly stepped back from where I was, and panned the camera to his left, prompting me to look to that direction. It was then that I saw the president passing by, I was not scared of him," Duale told KTN's News Hour host Ken Mijungu on Wednesday night.
Duale, during the KTN interview, reiterated his Tuesday remarks, saying Uhuru left out several key issues in his speech, among them the ballooning national debt, the Executive's disobedience of court orders, among others.
The MP, who is currently allied to Deputy President William Ruto's United Democratic Alliance (UDA) Party, also faulted the president for a "long and winding speech", asking his communications team to embrace brevity.
6,000 teachers rejoin KNUT
This moved the union's membership to 18,000 by the end of October. Knut had just 12,000 members in June when the union held its elections.