Bunge Chronicles: Waheshimiwa's burning queries over students on a fiery 'high'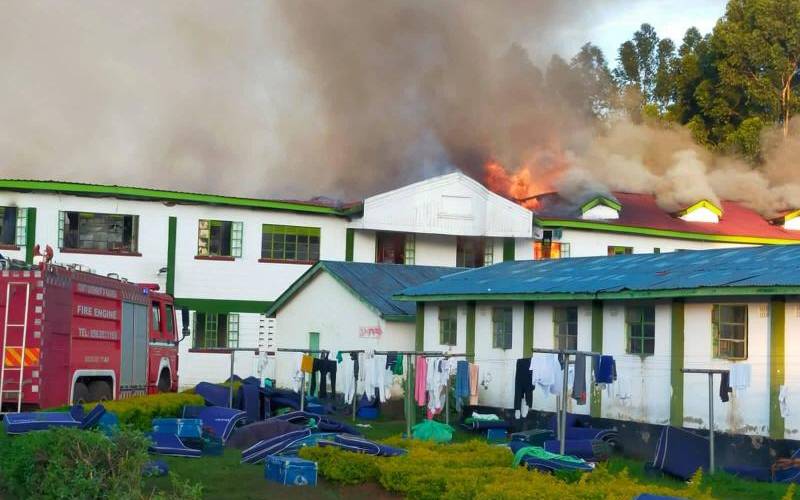 The skies above several high schools across the country are full of strange clouds. Occasionally, smoke billows from the dorms below. Other times from other places.
In his response to Bunge on the reason behind the fiery rage, Education Waziri George Magoha said some students could have taken the 'high' in high school literally.
Well, Education committee chairperson Florence Mutua spoke of "drugs and substance abuse" as a reason why learners were setting their dorms ablaze. Perhaps it's safe to assume weed could be involved.
Another excuse advanced by the ministry was that some school administrations were oppressive. "Stringent administrative tendencies could be viewed as oppressive by students today used to unlimited freedom at home under parents," said Mutua on Thursday's afternoon sitting. In the fewest words, Magoha implies that the burning issue is that students want people fired, hence their hints in the form of torched dorms.
It gets better. Bwana Waziri also claimed the "unrest could be a way of communication about underlying irritabilities". Who would have imagined that the generation that gets the most flak for abandoning traditions could revive smoke as a method of communication? Everything could be falling apart but the history lessons seemingly aren't.
Equally problematic, Magoha added, was the congested school calendar that was heating up their heads. That and the fact that the "reduced extra-curriculum activities" deny high schoolers an opening to let off some steam. The next best place to do so? Harmless mattresses.
Then, expectedly so, came the "poor role models" reason. Parents, this is you being targeted. If only you stopped burning things, like your cheating husband clothes or tyres when protesting, perhaps your sons and daughters would spare their dorms. Charity, remember, begins at home.
Mutua's report included other reasons, all responding to former Knut boss Wilson Sossion's questions on the cause of the students' unrest.
"Why are they only burning dormitories?" Sossion posed, a question that had previously not returned a response. Uhm... what would you rather they burned, Bwana Sossion? The midnight oil, perhaps?
Endebess mhesh Robert Pukose had other wonders. "Where do they get the fire from?" Pukose began. "How does this fire get into the school? Are there people who have been arrested for taking fire to the schools?"
Good question Bwana Pukose. The ministry should weed out the freaks transporting fires into schools. It shouldn't be hard to see them do so. It's not like anyone can hide fire. Not while it's yellower than a UDA shirt.