Granton Samboja cabinet summoned for ignoring House rules, unpaid bills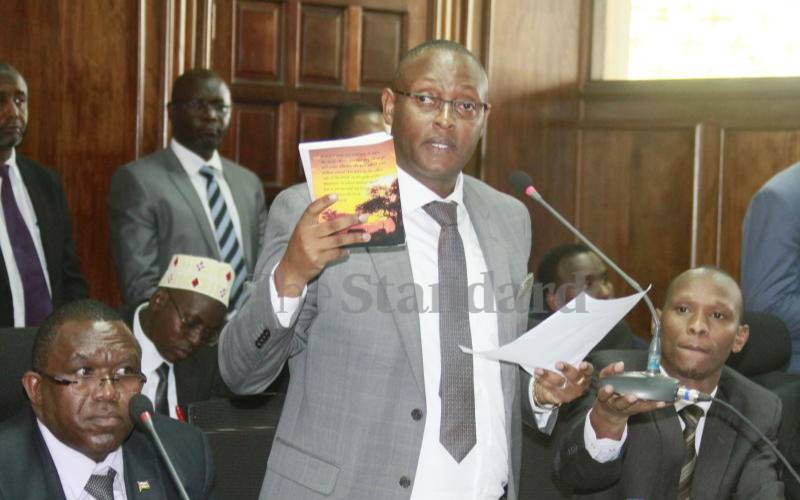 Governor Granton Samboja's cabinet is expected to appear before various assembly committees for ignoring House resolutions.
The Executive is also being accused of failing to file quarterly reports.
Speaker of the Taita Taveta County Assembly Meshack Maganga, yesterday said the 10 county Executive Committee (CECs) members, including the County Secretary Liverson Mghendi, will appear before the House from Wednesday to Friday, this week.
Last week, Mgange-Ward MCA Anselim Mwadime had complained to the Speaker that the Executive had been ignoring House resolutions.
The MCA told the speaker that the Executive was yet to implement directives that were passed last month.
Some of the directives include revocation of a previous decision to deploy newly-appointed six slaughterhouse supervisors at Bachuma holding grounds.
Mwadime and his Sagala counterpart Godwin Kilele, said the assembly had given the Executive seven days to rescind its decision to redeploy the slaughterhouse supervisors to the positions they had applied and interviewed for by the County Public Services Board (CPSB).
"These young Kenyans are being mistreated by our government. The Executive's refusal to honour House resolutions is painting a bad picture to the county administration," stated Mwadime who is also the assembly chairperson of Public Accounts and Investment Committee.
Further, the speaker said the Executive will explain the status of implementation of the county budgets 2021-2022 and budget execution for projects, amid concern of misuse of funds.
Maganga said the Executive will also be required to explain the status of huge pending bills and stalled county projects, including the ward-based under each department.
The summons comes as suppliers and contractors complain that they have not been paid for goods and services rendered since the incumbent government took over.