Ruto pledges Sh50b kitty for small traders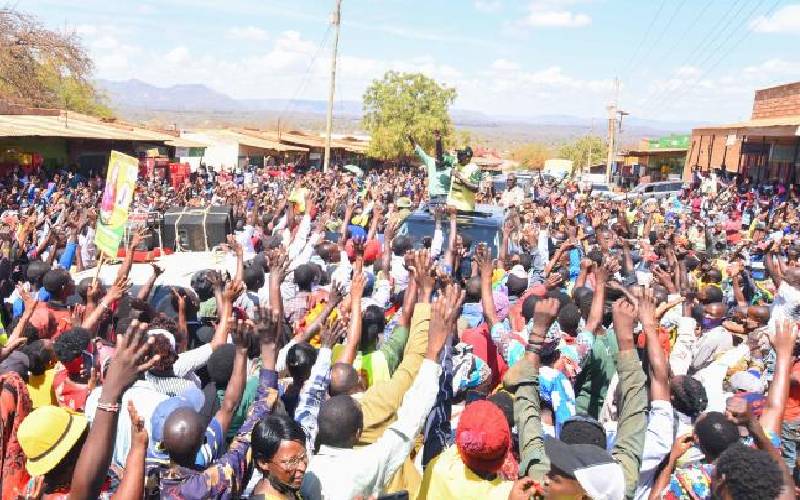 Deputy President William Ruto yesterday returned to Kitui County to woo voters.
Ruto toured Kitui East and South and held rallies at Zombe, Mutomo and Ikutha markets.
He also donated money to women and boda boda groups.
Later in the evening, he conducted a funds drive at AIC Kanyangi in Kitui Rural and later addressed a rally at Kanyangi market in the company of former MP Charles Nyamai.
At all the events, the DP said that he was confident that he would clinch the presidency in next year's polls, adding that his government's priority would be to allocate funds to programmes meant to empower small-scale business people across the country and creating jobs for the youth.
Ruto, who has been donating money to several groups across the country, said from next year, public funds would be disbursed in a structured manner to promote the growth of businesses, youth empowerment as well as agricultural production.
The DP said in the next financial year, Sh50 billion would be set aside for small and medium entrepreneurs to access cheap loans to expand their businesses.
The funds would be accessed through a special public kitty and every constituency would be allocated Sh150 million per year.
Ruto said this would make it possible for small traders to borrow and finance their businesses instead of relying on exploitative lenders.
For the country's jobless youth, the DP promised Sh100 billion to be invested towards programmes that directly create jobs and opportunities for them.
The programmes would include manufacturing, housing, value addition and agro-processing.
"We are determined to empower the youth, from the bottom. There is no crime in putting public money in improving the welfare of women, small traders and the youth," Ruto told a gathering at Zombe where he urged the Kamba community to be part of his government.
He was with the area MP Nimrod Mbai.
He said his administration would invest heavily in agricultural production while giving incentives to farmers and sourcing markets.
Ruto said he would continue with Jubilee's Big Four agenda, which he said stalled after ODM leader Raila Odinga "invaded the Jubilee government".
He accused Odinga of hijacking the government and introducing the BBI agenda that "sought to create opportunities for a few leaders" at the expense of suffering Kenyans.