Small parties in a battle to break 'six piece' voting in next elections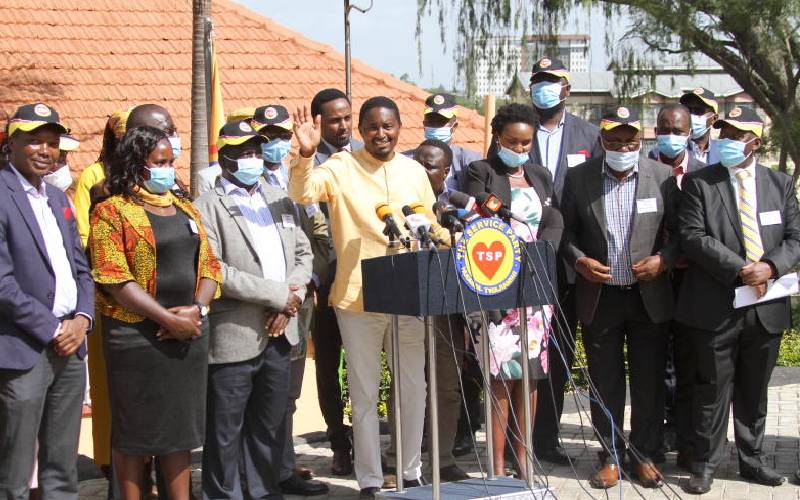 In the 2013 and 2017 general elections, the phrase "six-piece pattern" gained popularity as Kenyans embraced the clarion call by big parties of the time to elect their nominees.
This meant that the voters were to elect an MCA, woman rep, MP, senator, governor and president all from the same political party.
The six-piece strategy worked in most areas in both elections that saw ODM, The National Alliance (TNA) and United Republican Party (URP) bag most seats in Parliament and county assemblies in the 2013 polls.
To further strengthen their political base, TNA and URP wooed 10 other political parties that entered into a pact that led to their dissolution and the birth of Jubilee Party on September 8, 2016.
The six-piece narrative was sustained in the run-up to the 2017 elections, which saw Jubilee Party and ODM clinch most elective seats across the country.
President Uhuru Kenyatta's re-election in 2017 actualised the six-piece dream for a second time for his political formation as ODM won most of the elective seats in its strongholds.
But it seems the tide is changing against the narrative.
Major political parties are facing an uphill task in their push for a six-piece suit voting in next year's elections.
The Nyanza region, for instance, could be coming to terms with the emergence of small parties.
Several fringe parties are already in an ambitious effort to challenge the dominance of Raila Odinga's ODM ahead of the 2022 General Election.
Kisii and Nyamira counties could be headed for another round of surprises, owing to the fact that the area voted for leaders from more than five political parties in 2017, despite Jubilee's and ODM's dominance in the region.
Emerging political parties in the Nyanza region include Movement for Democracy and Growth (MDG), the Green Congress Movement Party, Kenya National Congress (KNC), People's Democratic Party (PDP), Federal Party, the Communist Party of Kenya, Amani National Congress (ANC), Ford Kenya, and United Democratic Alliance (UDA). All these parties are seeking to end ODM's dominance.
PDP leader Omingo Magara says the Gusii community cannot recycle the same individuals every election year and expect different results.
"The password to the community's growth lies with the people and the new political entrants. The awarding of direct nomination certificates in the past elections was a pretentious scheme to re-elect leaders courtesy of euphoria," he says.
Weeks ago, ODM Chairman John Mbadi told Migori Governor Okoth Obado to stop confusing the region with new parties and dividing Nyanza votes.
He likened the governor to the Israelites who created other gods when Moses went up the mountain to receive the Ten Commandments.
"The Israelites stayed in bondage for years and walked for 40 years in the wilderness and when Moses went to the mountain to get the Ten Commandments, the people created other gods. That is what I see happening now," Mbadi said.
Political analyst Dismus Mokua says the six-piece voting idea makes political sense in an environment where there are strong political parties that are anchored on philosophies and ideas.
"These political parties must also respect and accommodate divergent views. These parties must have a reliable member register. They must also practice internal democracy such that party nominations are free and fair or candidates presented by national office pass the meritocracy test," says Mokua.
Make parties strong
He argues that six-piece voting will make parties strong; however, the same is unlikely to happen because of disenfranchisement around party primaries and voters having a choice from a rich menu.
"Another challenge facing Kenya is that parties are no more than special purpose vehicles used by powerful personalities. They disregard democratic values and are used for nominations and horse-trading," he says
In the past, dominant parties have occasionally lost seats to small outfits in their perceived strongholds.
In Kisumu West, for example, MP Olago Aluoch, won his seat twice on Ford Kenya ticket, to the chagrin of ODM.
In 2017, the Orange party lost some of its strong supporters and grassroots leaders in what was occasioned by alleged irregularities in the primaries.
South Mugirango MP Sylvanus Osoro who, prior to the 2017 General Election, had been a staunch supporter of the then Nasa presidential candidate Raila, expressed his dissatisfaction with the ODM nomination process. He opted out and settled for KNC.
In Western, ODM, ANC and UDA leaders have been urging residents to vote for the party candidates in next year's polls.
ODM deputy party leader Wycliffe Oparanya is pushing for a system that could see "popular" candidates handpicked or chosen by delegates in certain areas. This has however not gone down well with the majority of aspirants eyeing various seats on the party's ticket.
In Kakamega and Vihiga, ANC has been urging supporters to stick to the six-piece voting pattern.
In Mombasa, ODM also won the governor's seat, four out of six parliamentary, senate and woman representative positions as well as 27 of the 30 MCAs.
Kilifi Governor Amason Kingi's Pamoja African Alliance (PAA), Ruto's UDA and other so-called fringe parties seek to end the ODM dominance by winning some seats next year.
Other entities battling for seats at the Coast are Umoja Summit Party of Kenya (USPK) and Shirikisho Party of Kenya (SPK).
Meanwhile, PAA has since declared that it will back Raila for the presidency but field candidates for other elective seats at the Coast.
On the other hand, Kadu Asili has since joined the One Kenya Alliance (OKA).
But Kingi and his PAA team have taken a low profile even as officials say they are planning to roll out a public awareness programme ahead of its launch in January next year.
"We can only join others when we have our own borehole from where we can draw water. If we join another party without our own, it will be the same situation as being in ODM," Kingi said.
Party Chairman Ibrahim 'Babangida' Khamis said yesterday that they have been planning and are now ready to start the awareness campaign across the country.
"The next phase is to roll out our awareness programme that will run between November and January when we are likely to officially launch the party. We are building a party for the distant future, not just for the 2022 General Election," said Khamis.
He said PAA had recruited over 50,000 members and opened offices in 31 counties.
"Kadu Asili rushed to join OKA but there are other parties that we can join hands with and continue the talks on the unity of the region," Khamis said.
Kingi once led the talks on Coast unity and a possible merger of Coast-based political parties but the party leaders maintained they were for a coalition, leading to the collapse of the deal.
Kadu Asili Chairman Joshua Kombora said recently they could continue the talks on unity with partner parties even after joining OKA.
Political analyst Herman Manyora describes the six-piece voting as dangerous for all stakeholders, including the parties themselves.
"Six-piece voting is putting everything in the same pot, which is very dangerous. It encourages voters to be uncritical as they blindly select candidates based on the political party or alliance," says Manyora.
He says this has a negative impact on the electorate who end up with candidates imposed on them by parties and senior politicians.
Manyora says a party that will call for six-piece voting will be making a big gamble that may leave it in a crisis should it clinch the presidency and fail to have enough numbers in Parliament.
"On the flip side, if the party manages to make a clean sweep of the other five seats and lose the presidency, they will form a very strong opposition that will keep the government on toes," he adds.
He advises presidential candidates to embrace coalitions for them to beat their strong competitors in the coming polls.
"For the interest of a presidential candidate carrying the day, they will have to form a coalition and agree on a formula on which party's candidate in the coalition is the strongest for a particular seat and hold joint campaigns," says Manyora.
Nakuru Governor Lee Kinyanjui says voting for a six-piece leadership negates the role and aspirations of a party and its members.
"Parties are supposed to be carriers of people's aspirations and not mere vehicles to power. Unfortunately, we have reduced our parties to ladders of personal advancement," says Kinyanjui.
He describes the voting style as detrimental to the unity of the people, as it aligns voters to elect leaders without taking into consideration their ideologies.
"It leaves us in the tragedy of parties being person-centred rather than ideological. This leaves nothing to glue people together, an important aspect beyond the polls," he says.
The governor says it is time for parties to transform the country's political landscape by ensuring the right leaders are elected with an emphasis on service to the electorate.
"Ubuntu Party, for instance, is centred around moral re-awakening and the need to restore humanity in our politics. A criminal in any party is a criminal. Parties with no values must end," says Kinyanjui.
[Eric Abuga, John Shilitsa, Patrick Beja, Kennedy Gachuhi]