Form vigilante groups at ward level to fight graft, Mudavadi tells youth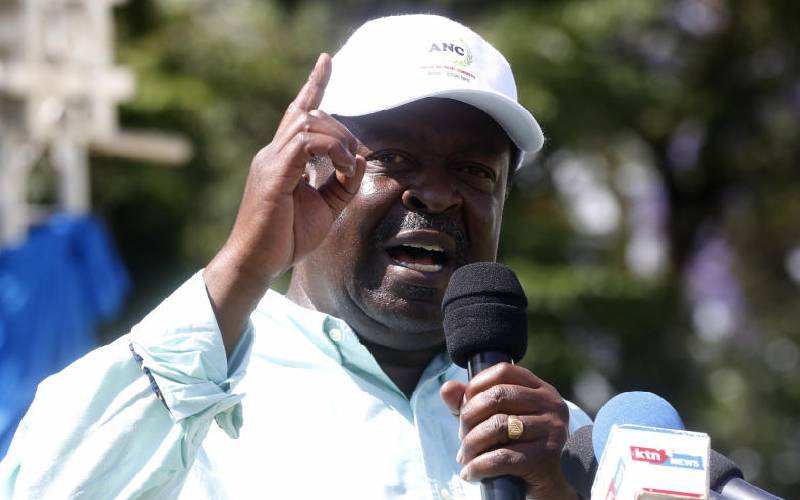 ANC party leader Musalia Mudavadi has urged the youth to form anti-corruption vigilante groups of 50 members each at the ward level and begin whistleblowing on corrupt practices.
He called the groups Finje Finje which street language for fifty-fifty.
In a statement sent to media houses on Sunday, Mudavadi urged the youth to support him in the anti-corruption crusade, saying it will save taxpayers billions of shillings stolen from the government.
"Finje Finje groups will be the first in line when opportunities listed above are made available," he said.
He blamed the rising level of unemployment among the youth for wanton corruption which has seen the government lose Sh2 billion a day.
He said an ANC government will seal corruption loopholes and use stolen money to create jobs for the youth.
Mudavadi hit out at the current administration for unnecessary borrowing to finance non-project projects and said an ANC led government will collate the stolen and misused public funds and invest them into the economy.
"If we lose 38 per cent of the current 2021/2022 budget, as was indicated by the Auditor General, that will be sh1.15 trillion lost. This is called budgeted corruption."
Cabinet slots
Mudavadi said half of the 22 Cabinet Secretary slots and that 32 per cent of government appointments will be reserved for the youth should he be elected president in 2022.
"Half of the 22 Cabinet slots in my government will go to female and male youth. This will be cascaded to the lower levels of public service," he said adding that he will also create a stand-alone youth ministry to deal with their affairs.
Mudavadi said unlike his opponents who are promising the youth handouts if elected, his government will put the six million jobless youth into meaningful jobs.
The ANC leader cited the recent media reports that over 60,000 persons applied for 553 Judicial Service Commission's jobs within 20 days leading to the crash of the JSC official website was disturbing and a sign of how the youth were suffering because of unemployment.
"Majority of those applicants must obviously be youth. Young people in Kenya are hurting from uncertainty, despair and worthlessness," he said.
Mudavadi said unemployment is to blame for the rising cases of mental anguish and domestic violence among the youth.
Mudavadi, Wiper Democratic Movement's Kalonzo Musyoka, Kanu's Gideon Moi and Moses Wetang'ula of Ford Kenya are campaigning under the One Kenya Alliance (OKA) and will unveil their flag bearer in December.
Covid-19 is still with us
Politicians gunning for positions in the 2022 elections and their crowds of supporters particularly continue to set a bad example.