Nairobi Senator Sakaja says assemblies, Parliament an appendage of Executive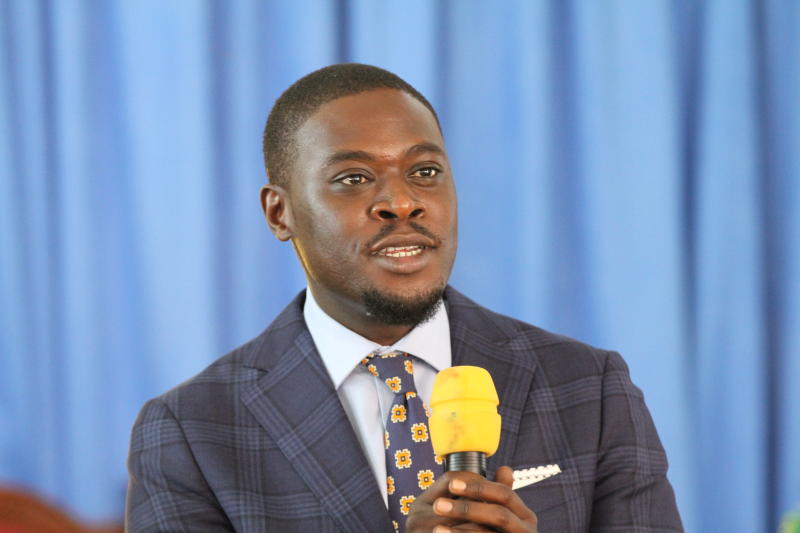 Nairobi Senator Johnson Sakaja has faulted the county assemblies and Parliament for becoming an appendage of the Executive.
Speaking on Spice FM's Situation Room yesterday, Sakaja admitted that some lawmakers are sympathetic to President Uhuru Kenyatta's government instead of exercising their oversight role.
"This last Parliament, not just the county assembly, with a lot of respect to my colleagues has failed Kenyans by trying to just pander to the whims of the Executive in many ways. They are told jump they ask how high," said the Senator.
Sakaja said many elected leaders are out to protect their political careers at the expense of serving the people.
"They are afraid of political repercussions. People are afraid of asking questions. Everyone wants to be politically correct. When you question the government, it doesn't mean you are against it," he said.
The senator, who is eyeing the Nairobi gubernatorial seat revealed that he has learnt a lot from the failures of the officer holders and he is the right man to lead the county.
"I'm glad I didn't become governor last time, I don't think I would have been as good as I will be because I have learnt from their mistakes," he said.
Sakaja believes that for Nairobi to reclaim it's former glory then the transport sector needs to be streamlined by having mass transit.
"A proper governor of this city must just focus on at least three things then let the next administration come in. The reason why the promises are not achieved is that we promise so many things. We over promise and under deliver," he said.
"We won't change people's values by saying theft is bad. It's about systems, technology and giving examples," he added.
Even though the senator praised the Nairobi Metropolitan Services (NMS) for an "amazing job," he still believes that an elected leader needs to steer the county. He faulted NMS for the eviction of 8,000 residents of Kariobangi North at the height of Covid-10 last year.
The senator called out the National Assembly for lack of oversight of NMS.
"The national government is primarily over sighted at the national assembly. Has there ever been a question by the National Assembly? No not even one yet their budget is done there. The accounting officer of NMS is actually the State House Comptroller," disclosed the senator.
"People have let us down many times. We can choose to give up and say nothing will ever change or we can choose to identify leadership we can trust and believe in," he added.
The senator argued that devolution should be stepped down to allow for lower levels of accountability.
"For example, the person dealing with garbage collection in Karen is not the same person dealing with it in Kayole," he said.
Sakaja explained that to successfully serve in Nairobi, a governor should have a team, avoid a one-man show and run with a one-term mentality.