Raila feted in colourful city event for promoting unity, democracy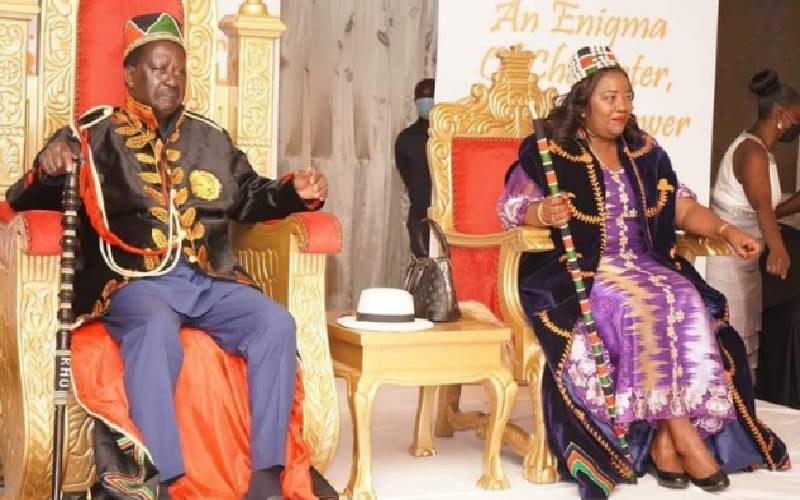 ODM leader Raila Odinga was on Friday feted for his role in promoting peace, democracy and development in Kenya.
The former Prime Minister was bestowed the honour by the Hekima Kaka Society at a colourful event held at Nairobi's Villa Rosa Kempinski Hotel and attended by his close family members and friends.
Some of those in attendance were then kin of the late Pan-Africanist leaders and presidents Samora Machel (Mozambique), Julius Nyerere (Tanzania), Milton Obote (Uganda) and Zambia's founding father President Kenneth Kaunda.
Raila's friend, former Nigerian President Olusegun Obasanjo also addressed the guests via a pre-recorded video.
Raila was accompanied by his wife Ida alongside ODM Deputy Party Leader and Kakamega Governor Wycliffe Oparanya, his Kisumu counterpart Prof Anyang' Nyong'o, former Gatanga MP Peter Kenneth as well as a host of other leaders from his party.
Those involved in the award were Agnes Salome founder and Director of Hekima Kaka, Dr Maxwell Okoth Founder and Chief Executive Officer (CEO) of Ruai Referral Hospital and Ken Odegih Country Director of Dlight Ethiopia and the Horn of Africa.
The award capped an eventful day for Raila after a mammoth rally in Deputy President William Ruto's backyard in Eldoret that unexpectedly drew a 'sea of humanity'.
The former PM spoke of a desire to empower the youth pointing out the paradox of a languishing continent that was endowed with natural resources and the youngest population.
He said he was inspired by the pan Africanists and believed in the thought that Africa could only be truly independent when the realms of Africa are independent.
"Africa is now the youngest continent demographically. 70 per cent of most African countries are below the age of 35. That can either be a blessing or a curse," he said.
"If the youth are not empowered with knowledge and skills, then they can become a problem to the society and become drug addicts, delinquents and criminals but properly empowered with requisite education and skills they can become a source for with wealth creation."
He said the youth did not want tokenism but were eager for opportunities.
He said a third revolution was in the works - an economic revolution that would improve the lives of Kenyans.
Raila said he was also driven by his Azimio la Umoja platform to change the country and bring everyone together.
He noted that ethnicity had denied the country equal opportunity.
The ODM leader was, however, coy on whether he would contest next year. He said his immediate priority was uniting the country.
Asking the crowd to support him, Raila said he was finishing consultations and would make a decision on his candidature in a month.
Kenneth, the former Gatanga MP, regretted that Kenyans had not honoured the leaders in the country well enough.
He said he was certain that Raila was the best leader to hit the reset button.
"All these things we are talking about economic models and young people, we need that reset moment to look at industrialisation manufacturing, so that our young people can get engaged," he said.
"That is how we can build our country - by expanding the economy, and making sure production is a core thing other than telling people that you can take a wheelbarrow try to climb Mount Kenya, and come down with it. It cannot work." said Kenneth.
Oparanya built on Kenneth's speech saying the biggest fete for Raila would be to become president.
"I wonder what Kenyan politics would be without Raila. The only honour we can give him his to make him the fifth president," said Oparanya.
During the award ceremony leaders thanked Raila for his exemplary leadership.
Hakima cited Odinga's handshake with President Uhuru Kenyatta on March 9, 2018, after the acrimonious 2017 General Election.
Hekima said the event was meant to honour Raila for an outstanding and valuable contribution to democracy, unity and development.
Hekima was founded in 2008 by Agnes Salome to address the plight of the boy-child and men in Kenya.