No degree? You are free to vie for MP or MCA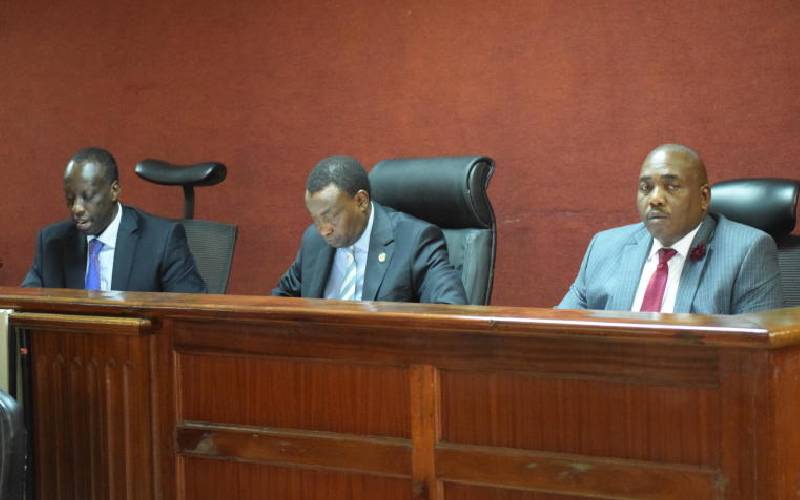 The High Court has annulled the provision in the Elections (Amendment) Act 2012 requiring those aspiring for election as MP and MCA to have degrees.
Justice Anthony Mrima held that Parliament never invited the public to participate and proceeded to enact a discriminatory law.
Justice Mrima found that Section 22 of the Act fails to factor in those who are in universities and will not have earned a degree at the time Independent Electoral and Boundaries Commission (IEBC) will be clearing aspirants for the 2022 elections.
According to the judge, it is unfair to place a pedestal on leadership based on a university degree.
"As Parliament discharges its legislative responsibility, its focus must be on ethical standards and not only education pursuit. The impugned provision unfairly and justification discriminates on the basis of education occupation. It also fails to treat everyone equally before the law and fails to take to account persons who already have been admitted in university cannot graduate before 2022," ruled Justice Mrima.
According to the judge, MPs did not carry out public participation, observing that despite this being raised in the case, they did not reply to the argument.
He continued: "Public participation is an irreducible minimum in the process of enacting any legislation. Parliament must always adhere to the requirement and carry out adequate participation for any legislation to gain legitimacy. There was need to consult national statistics and education technocrats to ensure the legislation is in tandem with the realities in Kenya. Unfortunately, chose to ignore that. There was no public participation."
The judge also faulted MPs for failing to carry out a countrywide assessment on how many Kenyans would be locked out of leadership position because of the provision.
Section 22 of the Elections Act 2012 that was to be enforced in the next general election. It made it mandatory for aspirants to have a university degree to get clearance by the electoral commission to contest.
Currently, the Elections Act only makes it mandatory for the presidential aspirant and running mate as well as governors and their running mates to be degree holders.
Although the implementation date of the law had been postponed several times, it was set to take effect after the National Assembly in 2017 pushed it to 2022.
A person may be nominated as a candidate for an election under this Act only if that person – is qualified to be elected to that office under the Constitution and this Act, and holds – in the case of a Member of Parliament, a degree from a university recognised in Kenya or in case of a Member of County Assembly, a degree from university recognised in Kenya," states section 22 of the Act.
"Notwithstanding subsection (1), this section shall come into force and shall apply to qualifications for candidates in the General Election to be held after the 2017 General Election," adds a section that suspended its implementation."
Sheria Mtaani lobby group, which filed the case, submitted that the provision is unconstitutional since it discriminates against people with low education.
The lobby headed by lawyer Shadrack Wambui, argued that the provision would in effect lock out the minority and marginalized groups who have no access to education.
"That law, if implemented, will deny voters a right to choose a candidate of their choice who has no university degrees. It will also deny voters a right to freely participate in elections due to the limitation of the people to select during the elections," it argued.
IEBC has already declared that it will not clear any candidate seeking to be elected in any of the six elective positions without a degree certificate.
The concerns about the level of education among the top leadership came to the fore in 2017 and 2018 when more than 50 MPs failed to make any contribution in the National Assembly and later requested Speaker Justin Muturi to organise another induction to understand parliamentary procedures and practice.