ODM leader Raila Odinga set to visit Meru at the end of the month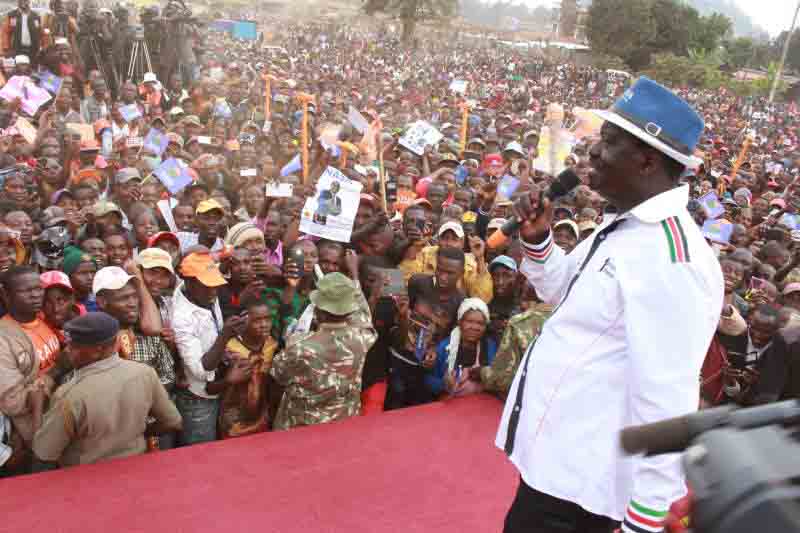 Orange Democratic Movement (ODM) leader Raila Odinga is set to visit Meru at the end of this month.
National Assembly Deputy Chief Whip and Igembe North MP Maore Maoka said Raila would be making a trip to the miraa growing zone and vote-rich Igembe region.
Mr Maoka, who was speaking after presiding over a security meeting that brought together boda boda operators at the weekend, said Raila had a huge following in the area.
The Raila foray into Meru comes barely weeks after area leaders hosted him in a Nairobi hotel in a function convened by the Mount Kenya Foundation, chaired by Titus Ibui.
"We will bring him here at the end of the month. He has his many fans around," said the MP.
Maoka said they supported the Handshake between President Uhuru Kenyatta and Raila and the dividends it had given the nation.
On Governor Kiraitu Murungi-led efforts to unveil the Devolution Empowerment Party (DEP) to advance Mount Kenya East's political and development interests ahead of next year's elections, Maore said he supports any initiative that will foster development and unity of the region ahead of the polls.
Gitonga Ndolo, the leader of the 'Baba Bila Condition' (BBC) lobby group, said Raila had many supporters in Igembe.
"Raila is now the most hyped president-in waiting in this area of Igembe," Ndolo added.
He pleaded with Meru leaders to follow the example of their counterparts in other regions who are supporting the Handshake and the ODM leader's presidential quest.
"Raila is a true nationalist and a fighter for democracy, unity, fairness and equality," he said.
ODM's Meru branch Chairman Jacob Munoru said their ongoing grassroots mobilization is meant to change the perception that the region is anti-Raila.
Munoru said Raila enjoys a good level of support in different areas in Meru, but their campaign will get him even more acceptance and a clear lead.
ODM brigade in Meru
Last month, Meru became the first ODM branch to choose leaders by consensus. Those picked
Branch chairman- Jacob Munoru (from Igembe South)
Secretary- Rukaria Kaumbia (Buuri)
Treasurer-Frederick Mwitari (Imenti South)
Organising Secretary- Francis Muchiri (Tigania West)
Deputy Secretary- Elija Kamencu (Tigania East
Deputy Organising Secretary-Maigalu Mwiraria (Imenti North)
Women League chair- Christine Gakii (Igembe North)
Youth League chair- Florence Kanario (Igembe Central)