Raila seeks North Eastern region one million votes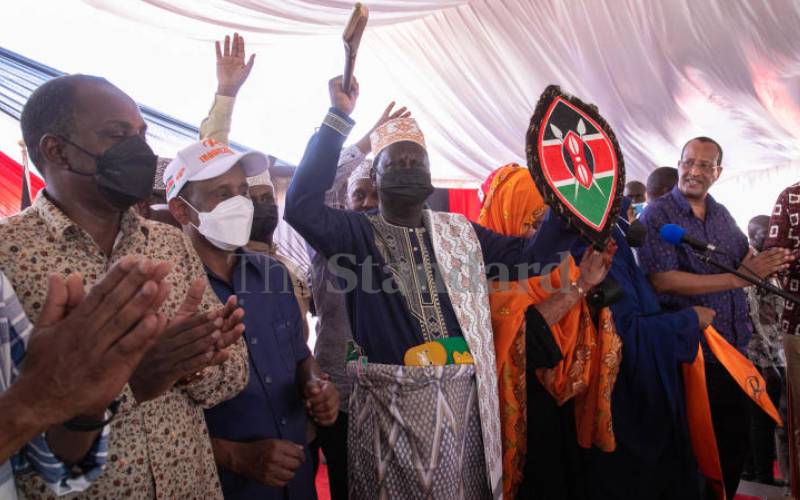 ODM leader Raila Odinga pitched tent in the North Eastern to woo support ahead of next year's polls.
The two-day campaign in Garissa saw delegates from the northern counties engage Raila on their expectations.
With a region that has close to a million votes – his visit is expected to try to shift support in his favour ahead of the next poll after the 2017 polls where locals voted for President Uhuru Kenyatta's Jubilee Party.
Garissa, Wajir, Mandera, Marsabit, and Isiolo have 718,997 voters, according to 2017 data by the Independent Electoral and Boundaries Commission (IEBC).
The numbers are expected to substantially go up after the ongoing mass voter registration as well as another exercise scheduled for early next year.
According to the last polls data, President Kenyatta garnered 293,243 votes against Raila's 159,636.
Garissa that had a total of 163,350 votes, Raila managed 54,356 against Uhuru's 54,783 while in Wajir – which had 162,912 total votes – he garnered 52,362 against 60,508 by Uhuru.
The former premier managed 17,984 in Mandera that had a total vote of 175,650 in the August 8, 2017 General Election. Uhuru enjoyed overwhelming support in the county by collecting 112,456 votes.
In Marsabit that had 141,730, Raila managed 16,003 against Uhuru's 92,692 while in Isiolo, ODM lost to Jubilee with 18,931 votes against 26,746.
Raila's strategists believe that the former premier stands to shore up his numbers by inheriting some of Uhuru's supporters. The President is perceived to be preparing Raila to succeed him in the next polls.
At the same time, the opposition chief has won the support of some of the region's leaders, who backed Jubilee in the previous polls.
National Treasury Cabinet Secretary Ukur Yatani, Jubilee Coalition Joint Secretary and Eldas MP Adan Keynan, governors Ali Korane (Garissa), Mohammed Kuti (Isiolo), Ahmed Ali Muktar (Wajir), Isiolo Senator Fatuma Dullo and a host of MPs from the region have since formed a new formation dubbed Upya Movement.
The new political formation has declared its support for Uhuru and Raila's succession game plan, handing Raila a major boost to his candidature.
The former premier's visit that ended yesterday was to pacify the region over his position on resource sharing.
Yesterday, Keynan described the visit by Raila as the cusp of a new dawn for the residents of more than 14 counties behind the Upya Movement in the vast arid and semi-arid lands. He said the leaders from the region had begun a journey that will ensure fair distribution of resources to the marginalised counties.
"We believe this is a start and a new phase to ensure the economic empowerment of the pastoralist communities in a renewed call against historical marginalisation and underdevelopment," said the Eldas MP.