Wanjigi tells Raila to intervene, avert bid to raise debt ceiling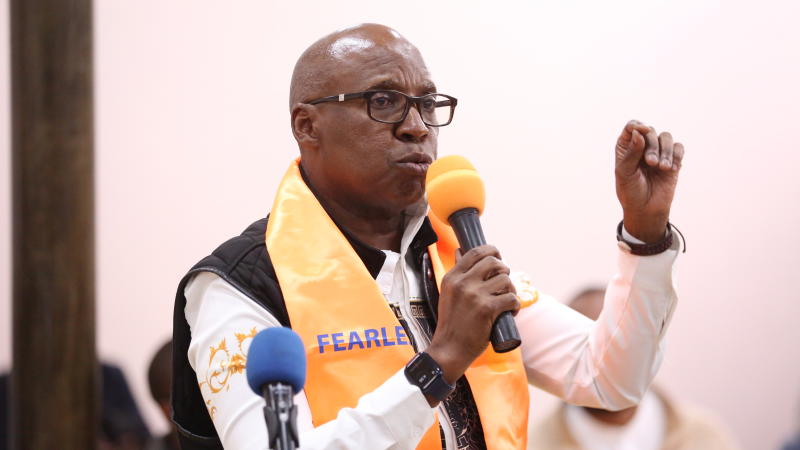 Businessman Jimi Wanjigi has called on ODM leader Raila Odinga to rally MPs to oppose plans to raise the public debt ceiling from Sh9 trillion to Sh12 trillion.
Speaking after attending service at Presbyterian Church of East Africa (PCEA) Makupa parish in Mombasa, the businessman urged the ODM leader to rally MPs to reject the proposed Bill that seeks to allow Government to borrow, arguing that it will increase the burden on Kenyans.
"I am calling on my party leader Raila Odinga to whip our MPs and ensure there is no increase in the debt ceiling from Sh9 trillion to Sh12 trillion. If the Bill passes in Parliament, the leaders should be prepared to face the wrath of voters in the next elections. I hope and pray that this does not happen," he said.
At the same time, Wanjigi urged Raila to use the handshake with President Uhuru Kenyatta to ensure the take or pay arrangement on the cargo haulage from the port of Mombasa to Nairobi by Standard Gauge Railway (SGR) freight service is reversed so as to revive the Coast economy.
He noted that SGR has cost the region's economy 8,000 direct and 40,000 indirect jobs and denied the area Sh122 billion in business such as road transport and container freight stations.
"Raila has said government will reduce the cost of petroleum. Since my good friend has such information from government, I urge him to use his connection to rescue the economy of Coast where he got more than 70 per cent of the total votes in 2017," said Wanjigi who is eying the presidency on an ODM ticket.
"The people here have been suffering a lot from the effects of SGR and something should be done to address the economic crisis," he added.
Wanjigi said the ODM presidential candidate will be determined by 3,000 party delegates who will converge at Kasarani in Nairobi.
"Raila has not declared his candidature yet. It is important that we are transparent in this country. ODM should show the country that it is transparent and democratic. I am not going to step down for anyone. My fate will be determined by the 3,000 delegates at Kasarani," he said.
The businessman described himself as the unifying force seeking to build ODM into a bigger party instead of a coalition.
"My hope and prayer is to build ODM into a giant orange," he said.
He urged youths to register as voters in large numbers and ensure their numerical strength is felt in the next elections.
"My message to the youths is that they should register as voters in large numbers. They should not allow anybody to determine their future," he said.
Earlier, Wanjigi said he was opening ODM offices in parts of the country to strengthen the party and not wreck it as claimed by the Secretary General Edwin Sifuna in a statement he released after the Central Management Committee meeting chaired by Raila last week.
He noted that he has managed to open ODM offices in Mount Kenya where none existed and would continue to do so in areas that have a gap.
Sifuna and other party officials have accused Wanjigi of opening parallel offices seen to undermine the party.