Uhuru's actions leave little doubt about his preferred successor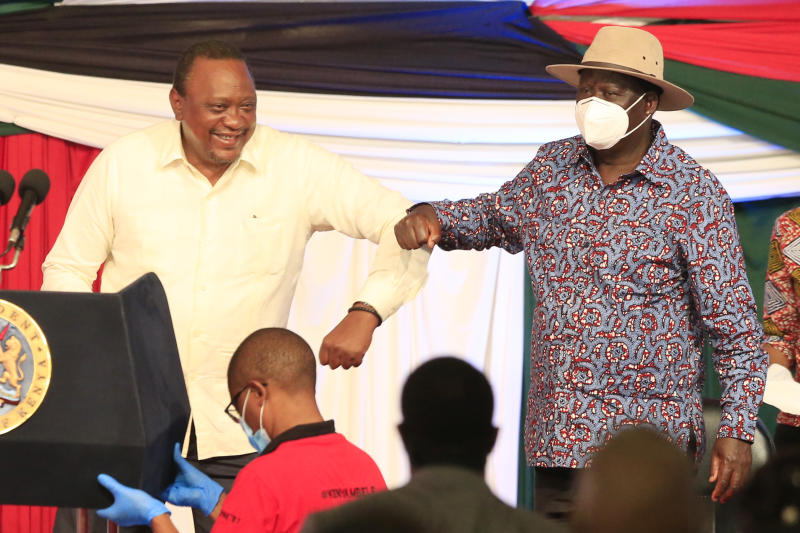 President Uhuru Kenyatta does not have to say it loud who his preferred successor is. His actions have seemingly let it out.
From a pool of presidential hopefuls seeking his endorsement, the president increasingly seems to favour former Prime Minister Raila Odinga.
Raila has wormed his way into Uhuru's affections since their March 2018 handshake.
He has openly favoured the idea of the next president coming from the opposition, urging them to unite if they are to stand a chance.
Like a father figure with hopeful sons huddling around him, he has avoided playing favourites with his new allies who include Kalonzo Musyoka (Wiper), Musalia Mudavadi (Amani National Congress), Baringo Senator Gideon Moi (Kanu) and Moses Wetang'ula (Ford Kenya).
Though he has shied away from publicly endorsing any particular aspirant, he has reportedly been selling Raila's candidature to opposition figures behind closed doors. A move that has rattled Deputy President William Ruto's allies.
Dr Ruto has equally sought to downplay the concerns by his Tangatanga camp, insisting that his boss owes him no debt for supporting his presidency in 2002, 2013 and 2017.
The president's allies, including Jubilee vice chair David Murathe, have been in charge of spreading the gospel of a Raila presidency, terming it a 'Mandela moment'.
Murathe has publicly declared Jubilee support for Raila's presidency, saying leadership is not about two communities (Kikuyu and Kalenjin) who have ruled since independence.
In the public eye, Uhuru has dropped hints that aren't as subtle as he perhaps hoped them to be. This week alone, he dropped three of those.
On Thursday, a delegation of MPs reported to have been sent by him to meet Raila declared their support for the former premier, promising to help him scale Mt Kenya.
A day before that, Uhuru almost revealed his closely guarded cards when – addressing a gathering in Kibra in the company of Raila – urged voters to elect their next president wisely.
"When Raila and I came together, there was peace, which brought about development. Isn't that what we want?... The choice is yours," said the president, an indication that he was in favour of some familiar continuity.
On Tuesday, Raila met some Mt Kenya tycoons, yet another meeting that was sanctioned by the president as part of a vetting exercise for presidential hopefuls.
The Tuesday and Thursday meetings have one thing in common – they had the president's blessings.
The Mt Kenya tycoons who met Raila are expected to meet One Kenya Alliance (OKA) principals next week. While that gives the impression that no particular candidate has won Uhuru's heart fully, Raila's meeting with Kieleweke is more telling.
That the ruling Jubilee Party and ODM agreed to form a joint presidential campaign secretariat ahead of next year's polls – and the planned Jubilee-ODM merger – leaves no doubt as to whom is likely to get Uhuru's nod in the long run.
'Kibaki Tosha'
The president's tour of Kibra with the ODM leader also speaks volumes. Granted, a verbal declaration, akin to Raila's "Kibaki tosha" in 2022, would amount to an open endorsement. But this is not the first time that Uhuru and the ODM leader are spending their days together.
In April, as Raila was shaking off the effects of Covid-19, the president dragged him to a Nairobi City-wide tour to inspect government projects.
Since their handshake, Raila increasingly passes off as someone enjoying perks that come with being close to power. His current position mirrors Mudavadi's in Kibaki's last days as president.
The former president would frequently delegate some of his functions to the then deputy prime minister, giving off the impression that he preferred Mudavadi's candidature. Like Uhuru, Kibaki's confidants petitioned Uhuru to back Mudavadi.
"This is Raila's moment. It's like 2002 when Kibaki was the main man. We are going to see the entire country rally behind Baba," said Igembe North member of Parliament Maoka Maore.
"Uhuru has given the clearest signal to his constituency that it is Raila. Don't wait for a baraza proclamation on this. We are matching forward. He is the only one we trust to safeguard Uhuru's legacy," added the deputy majority whip.
Kieni MP Kanini Kega yesterday said that Raila's support for Uhuru since the handshake and his support of the Building Bridges Initiative put him in a better place to secure Uhuru's backing.
He dismissed the notion that Raila was Uhuru's project, saying that the ODM leader was scaling the mountain independent of the president.
"As Mt Kenya leaders, our job is to ensure that Raila gets the chance to be heard in the region. That has been denied to him in the past. But Uhuru will make his views known. Raila is endearing himself to the people, and Uhuru is one of them. But if you see me anywhere, know that I walk with blessings," said Kega.
"The indications in the public domain may indicate that Uhuru seeks to have Raila as his successor," says Tom Mboya, a governance consultant, arguing that Raila's intensified charm offensive in Mt Kenya region may be as a result of that assumption.
Mboya believes that several factors may have led the president into looking at Raila with a favourable eye.
"The president may have looked at the various aspirants and feels like Raila is the best option. For one, Raila is a seasoned politician who has been in the trenches. That presents an attractive package to Uhuru, who is interested in leaving a stable country. The two also know each other well at a personal and professional level."