Gideon Moi's endorsement signifies return of good old Jogoo party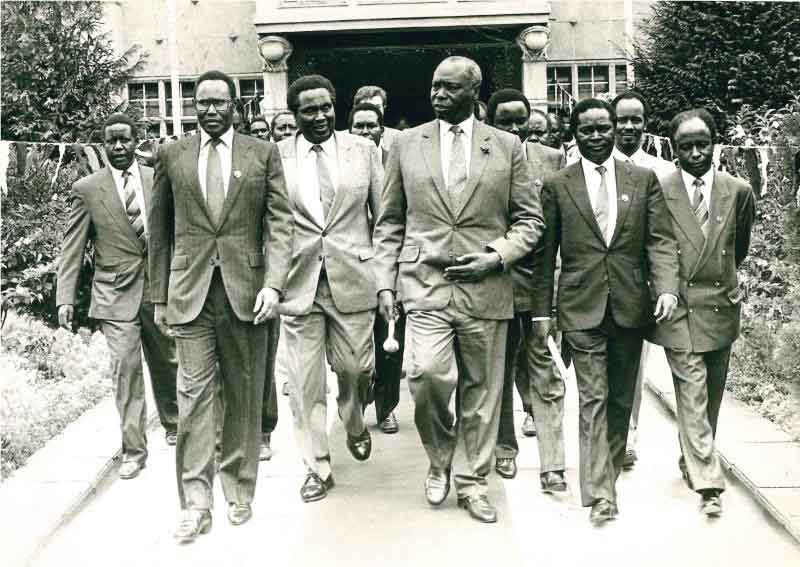 I am in the generation that was born, grew up, and came of age when Kanu was the ruling and only political party in Kenya. So you can trust me to have an idea on what I have written today.
I was on Lang'ata Road on Thursday when Kanu delegates trooped to the Bomas of Kenya to crown Senator Gideon Moi their party presidential candidate for the 2022 General Election.
Watching the roadshow live and later the razzmatazz of the function at Bomas of Kenya beaming live on television reminded me of three characteristics of the Kanu party in the days the party was what it was.
The first is logistics: You can give it to Kanu. The chaps are organised; Thursday's function told it all. An estimated 3,000 delegates were in attendance, drawn from every corner of Kenya. That morning Langata Road was all red, the main Kanu colour.
It reminded me of four past events held by the party. The first was in December 1991 when a similar number of delegates congregated at Kasarani Sports Complex to endorse return of the multi-party political system.
The second was when they came in to endorse Uhuru Kenyatta as the party's presidential candidate in the 2002 general election. Third was when Kanu delegates met to endorse Mwai Kibaki's re-election as president in 2007.
The fourth such ensemble happened in 2017 when assorted political parties dissolved to form the Jubilee Party. If you remember, even that Jubilee function had all elements of Kanu. The dominant colour was red – the colour of Baba na Mama party!
The second thing I noted about Thursday's Kanu function was how it recreated the oneness of Kenyans. President Uhuru Kenyatta sent MPs Kanini Kega and Sabina Chege to represent the Jubilee Party.
Opposition leader Raila Odinga came in person, as did his counterparts Kalonzo Musyoka (Wiper) and Musalia Mudavadi (ANC). Moses Wetangula (Ford Kenya), who was not in the country at the time, sent Chris Wamalwa, the Kimilili MP, to represent him.
Deputy President William Ruto, the UDA party leader was not officially represented. But everybody who knows Kenya's political landscape can tell you UDA is Kanu's young cousin. When the chips are down, don't be surprised that UDA supporters will put their votes in the Kanu basket.
Back to Thursday's function. Everybody who came waved the famous Kanu one-finger salute. It reminded us that Kenya is, after all, one nation. Baba – that is Raila Odinga - went further and reminded us of the road Kanu had travelled since its formation on May 14, 1960.
He told us that delegates who formed the party came from 29 districts that made what was colonial Kenya those days. They met at Kirigiti Stadium in Kiambu and resolved to form one national political party to fight for independence of the country from British rule. They called the party Kenya African National Union (Kanu).
Mzee Jomo Kenyatta was elected the party president in absentia. Jaramogi Odinga was elected his deputy; and Daniel arap Moi the treasurer. Masinde Muliro was in the list of the top officials, as was Ronald Ngala and Paul Ngei.
Two months later, on June 25, 1960, another formation came into being. It was called the Kenya African Democratic Union (Kadu).
Ronald Ngala was elected its president, Masinde Muliro his deputy, and Daniel arap Moi, the party chairman. Paul Ngei formed a different party called Akamba Peoples Party (APP).
But after independence, on December 12, 1963, Kanu, Kadu, and APP, agreed to merge into one party called KANU, where leaders from all corners of the new Republic were accommodated.
At the Bomas Kanu function on Thursday, Baba recalled that after 1964, the only other two times when Kenya had a truly national party was early 1992. The party was called the Forum for Restoration of Democracy (Ford).
Next was in year 2002 when the National Rainbow Coalition (NARC) came into being.
Third thing I noted about Thursday's function was the return of President 'Nyayo'. It is the name by which my generation knew President Daniel arap Moi.
Senator Gideon Moi came to the Thursday function as a true representative of Mzee Moi. He was in a red Kanu shirt and freshly-picked rose flower pinned on his coat lapel. They were symbols - trade-marks - if we can call them so, of Mzee Moi. More importantly, Senator Moi, like his old man, spoke politely and persuasively.
Mzee Moi is actually the one who gave us the word "Nyayo" on October 10, 1978, when he was sworn in as second President of Kenya. He pledged to follow the "Nyayo" (Swahili word for footsteps) of his predecessor, Mzee Jomo Kenyatta.
Nyayo came to my home village of Sipili in Laikipia County, in the first week of January 1979. He was only five months in office and I was in Class Six. One thing I noted in Mzee Moi at that tender age is that he was a genuinely humble person.
I saw Nyayo five years later when I was a Form Four student at Nanyuki Boys High School. The President happened to pass outside our school gate and headmaster, Mr. Kenneth Rombosia, briefly interrupted our classes to wave to the President as he passed by.
The presidential motorcade stopped a short distance from our school gate. He alighted from his car and came where we, the students, were lined up and waving.
His first question was how we were doing in class. Then he asked whether we were following instructions from our teachers. We replied in the affirmative. That made him so happy. You could see the gentleman was a perfect teacher, and that politics and higher office of president never made him forsake his first life calling.
As he went back to his car, Moi asked headmaster Mr. Rombosia whether we had taken our 10 o'clock tea. Told no, he got into his pocket and handed to our headmaster some money.
I don't know how much it was, but what I clearly remember is that our mid-break tea, though a bit late, came with slices of bread and a banana.
Headmaster Mr Rombosia used the remainder of the money to buy a television set for the school. I remember the first thing we watched on the school TV was a wonderful presentation by visually challenged but greatly talented gospel musician and school teacher, Ms Mary-Atieno Ominde.
The people from Mount Kenya say the seed and the fruit never fall far away from the tree.
If what I saw in the Kanu function this week is anything to go by, then Senator Gideon Moi is headed somewhere not far from where his father got to in Kenya's political hierarchy.
But as he gets there, he will need a running mate. Everybody running for presidency in 2022 is talking about scaling Mount Kenya, meaning to get a running mate from the region.
I am informed by sources close to the source – quote me on this – that Senator Gideon Moi has settled on a cabinet secretary from Mount Kenya and who will soon say it from his own mouth.
Wait for the big announcement as we follow the unfolding story.