Jitters as Jimi Wanjigi takes his hunt for delegates to Coast region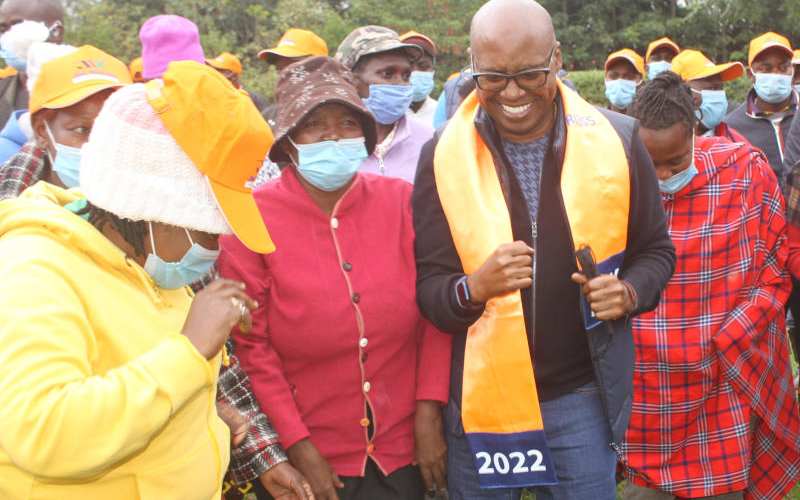 Businessman Jimi Wanjigi is pitching tent at the Coast this weekend in his search for 1,500 delegates to make him ODM presidential nominee at the National Delegates Convention (NDC) later this year.
It comes a few days after ODM party leader Raila Odinga chaired a meeting that threatened to discipline him for allegedly opening parallel party branch offices. Without naming names, the ODM Central Committee said it had received reports that there were some party members purporting to be opening offices without reference to or consultation with the national office.
Although the press release signed by ODM Secretary General Edwin Sifuna warned "some party members", it was crystal clear that the culprit was Wanjigi because he opened a few offices in South Nyanza two weeks ago when his motorcade was stoned in Migori.
The communication has since generated a lot of reaction from Kenyans, among them lawyer Danstan Omari, a lecturer at Catholic University, who has cautioned the that the move could portray Raila as an intolerant leader.
Speaking on a local TV station, Omari said that Wanjigi had every right to open his own offices around the country because he cannot use ODM offices that are controlled by Raila for his campaigns and grassroots planning.
"ODM has a perception of promoting political violence which Raila must deal with, otherwise the people he is courting will walk away. You cannot climb the mountain while you are still slaughtering chicken and children of the Mt Kenya hereditary," he warned.
But ODM Secretary General Edwin Sifuna said you can't just wake up and open offices somewhere in Kinayaga or Kieni.
"Back then this party used to depend on people's benevolence, so nobody should go and open an office in Karachuonyo without the knowledge of the party" said Sifuna.
Wanjigi, the man who is turning into perhaps the most visible ODM presidential ticket contender against Raila, will hold town hall meetings in three Coast region counties as he continues to hunt for delegates in readiness for the NDC in Nairobi later this year.
Whereas Raila's rallying call is "Azimio la Umoja" which stresses unity in diversity, Wanjigi has gone around trumpeting "Fagia Wote", asking for a renewal of Kenya's politics, with all the old guards leaving the political scene.
By coming up with the idea of fresh leadership and asking Raila to retire, Wanjigi appeared to be stirring the hornet's nest because not many ODM leaders dare to take on Baba, as Raila is called by party followers.
He has repeatedly said the party needs a new path to power so that it can form the next government as he intensifies his grassroots vote-hunting campaigns.
"My friend Raila has done his time and he should be honoured for his contributions to the fight for political freedoms, constitutional reforms and human rights, but it is time for a new leadership to lead the economic revolution in this country," Wanjigi has repeatedly said.
And Wanjigi is using all platforms, including FM radio stations, to pass his message across, the latest being a "Fagia Wote" quintet performance music clip shouting "Dance to Change".
But why is the party becoming jittery when Wanjigi offers it a chance of engaging Raila in a nomination exercise that can generate some public interest unlike probably a contest against governors Hassan Ali Joho and Wycliffe Oparanya?
The problem lies in the battle to win a majority of the 3,000 delegates expected to attend the ODM NDC.
That is why Wanjigi's office opening is targeting existing delegates at the grassroots and potential young voters in the party's strongholds.
"I'm confident I can garner 1,500 delegates and because I'm shoring up the numbers in Nyanza, Nairobi and the mountain region and with 260 more from the Coast, I'm sure they will support my economic revolution agenda," said Wanjigi.
He created a lot of excitement among some grassroots officials in Nyanza where he empathised with their poor working conditions and offered to assist as he hit out at party officials allegedly having a good time in Nairobi while the branches were almost non-functional.
One ODM MP from Western Kenya who spoke to The Saturday Standard yesterday pointed out that they are becoming uncomfortable with Wanjigi's travels around the country when Raila is busy building his networks in the Mt Kenya region.
Wanjigi wrote a five-paragraph letter to Sifuna on September 9, requesting detailed information on the conduct of party elections and nominations ahead of the 2022 presidential elections.
In the letter, copied to party leader Raila Odinga and the Registrar of Political Parties Ann Nderitu, Wanjigi said he had earlier visited the office to raise a matter of grave concern regarding the manner in which the party was conducting elections across the country.
"I would like to raise alarm that the conduct of the so-called elections will sabotage democracy and consign ODM to the footsteps of history in a very short order," the letter said.
Upon receiving her copy, Ms Nderitu forwarded the letter to Sifuna, telling him to respond to the attached self-explanatory letter and all the issues the aspirant had raised.
Among the things Wanjigi wanted to be furnished with were eight category member lists of non-ex-officio party delegates who will attend the NDC as per the ODM Elections and Nomination rules 2014 (Rule 17 (2) and the confirmation of the timelines to the NDC.
He also wanted to know if the party will have a televised debate for presidential aspirant nominees and the timing and mechanism of the party primaries at ward and constituency levels.
Wanjigi thereafter began engaging members as he awaits to be furnished with that information perhaps because he is cognizant of the fact that time is of the essence and it is quickly running out.
His team says they know that ODM has not had any serious party nominations since 2007 when the party held a highly publicised nominations exercise at the Kasarani gymnasium to pick what Raila called its captain and vice-captain from its Pentagon.
"It is going to be a tough battle and they know it because Wanjigi began with areas where ODM is very strong, before moving to more open areas like the Mt Kenya region, Rift Valley and Ukambani," said a member of his team.
Political scientist Prof Amukoa Anangwe said Wanjigi could be fronting a Raila ticket but also argued that Raila would work hard to regain the numbers he received in 2017, especially when it is clear that Musalia Mudavadi will not be wished away in the 2022 elections.